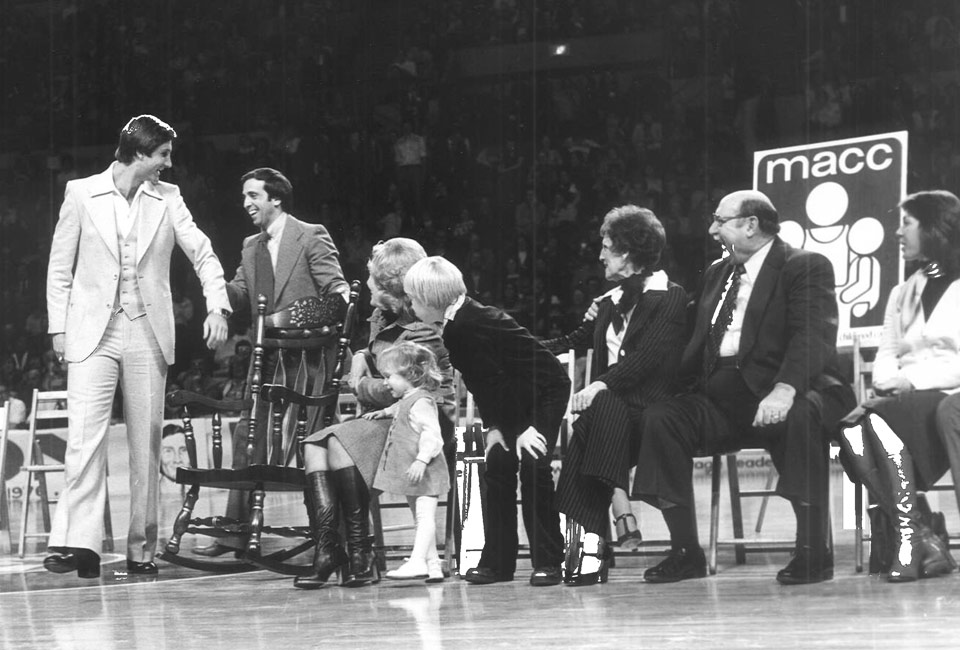 Since it's inception in 1976, the MACC Fund
has contributed nearly $65 Million Dollars
for childhood cancer and related
blood disorder research.
44 Years of Giving Hope
Read Our Story
The MACC Fund has spent the last 44 years raising critical funding for groundbreaking cancer and related blood disorder research to give hope to kids battling the diseases. Co-founded by Eddie Doucette, the first official voice of Milwaukee Bucks, and Jon McGlocklin, a Wisconsin Athletic and Indiana University Hall of Famer, the MACC Fund has helped dramatically increase childhood cancer survival rates from 20% in 1976 to 80% today.
THE BIRTH OF THE MACC FUND…
After Doucette's Son, Brett, was diagnosed with leukemia in 1975, facing a five-year survival rate of 66%, Brett's odd of survival were slim… and that's when Doucette developed relationships with several members of the medical staff at Milwaukee Children's Hospital, learning that one of the biggest challenges in combatting childhood cancer locally was a lack of funding. The National Leukemia Society reached out a short time later to Eddie after hearing about his son's battle and his connection to the Milwaukee Bucks. In one of his conversations, Eddie learned while there were great organizations like the National Leukemia Society, only a small percentage of every dollar donated to them would make it back to the Milwaukee Area.
Eddie continued his quest for information and after meetings with Dr. Donald Pinkel, the first director and CEO of St. Jude Children's Research Hospital and Dr. Jim Casper of what is today's Medical College of Wisconsin; it became apparent to him that an organization based in Wisconsin was needed. That's when Eddie and his life-long friend and Milwaukee Buck's player, Jon McGlockin started making plans for a charity.
On December 10, 1976, the Milwaukee Athletes Against Childhood Cancer (the MACC Fund) was founded on the court at halftime of a Milwaukee Buck's Game – the night that Jon McGlocklin retired from the NBA. Comprised of athletes, local business leaders, and local celebrities, the MACC Fund set out to make a difference by Giving Hope Through Research to children with cancer. When Jon and Eddie created the MACC Fund, they had no idea that their little charity would take off. Following rapid and significant growth in the early years, the acronym of the MACC Fund appropriately changed to Midwest Athletes Against Childhood Cancer. Undoubtedly, the MACC Fund took off in large thanks to the reputations of both Eddie and Jon, but also because of the support of the Milwaukee Bucks and its fans – raising nearly $70 million dollars for the MACC fund since 1976.
1976 - Milwaukee Buck's MACC Fund Game / First Major Sponsor
The Milwaukee Bucks become the first major sponsor of the MACC Fund, creating the fundraising event ...
Read more

1980 - Scientific Advisory Board
With advanced in research, cure rates start to rise and community involvement begins to spread. Spec...
Read more

1982 - Women for MACC (WMACC)
Women for MACC was founded by a group of mothers, siblings, relatives and concerned individuals figh...
Read more

1990 - TREK 100
Trek Bicycle Corporation and the MACC Fund team up to present the very first Trek 100 to provide lar...
Read more

2006 - MACC Fund's 30th Birthday
The MACC Fund celebrates its 30th birthday as an organization and welcomes Jon McGlockin, the Presid...
Read more

2006 - MACC Fund's Pledges $3.5 Million to the UW Comprehensive Cancer Center (UWCCC)
The MACC Fund announced a $3.5 million capital gift to the University of Wisconsin Comprehensive Can...
Read more

2008 - MACC FUND EXPANDS TO SUPPORT BLOOD DISORDERS
The MACC Fund expands its supported research to include blood disorders related to childhood cancers...
Read more


2008 - Children's Hospital of Wisconsin Named outpatient Clinic to MACC Fund Center for Cancer and Blood Disorders in honor of $5 million dollar gift.
The MACC Fund pledges a $5 million gift to the Children's Hospital of Wisconsin over the next 6 ye...
Read more

2013 - MACC Fund Pledges $10 Million Dollars to Children's Hospital of Wisconsin
The MACC Fund awards Children's Hospital of Wisconsin a $10 million dollar gift to help support an...
Read more

2013 - NEW LOGO
The MACC Fund reveals its new logo at the MACC Fund Game with unique pre-game activities, presentati...
Read more

2015 - Jeffrey A. Medin, PhD, named MACC Fund Endowed Professor
In September 2015, Jeffrey A. Medin, PhD, was named MACC Fund Professor in the department of pediatr...
Read more

2015 - AARON RODGERS CELEBRITY JEAOPARDY
Green Bay Packers Quarterback, Aaron Rodgers, bested "Shark Tank" star, Kevin O'Leary and reti...
Read more

2016 - 40TH ANNIVERSARY OF THE MACC FUND
The MACC Fund celebrates its 40th Anniversary. The secret to the MACC Fund's success over the past...
Read more