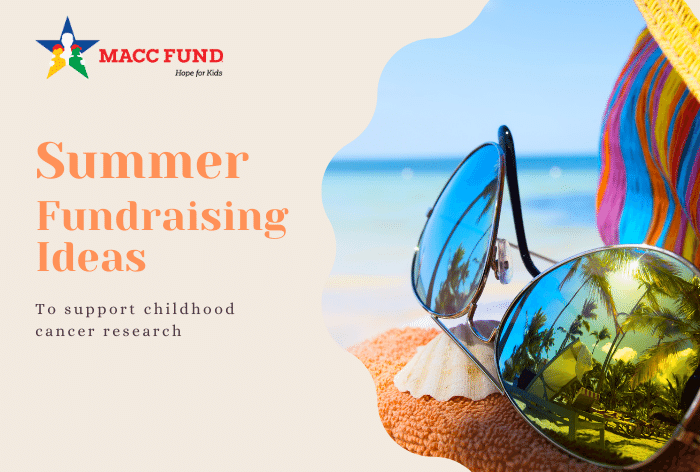 Summer Fundraising Ideas to Support Childhood Cancer Research
The weather is warming, the sun is shining, and that means summer fundraising season has begun! Summer is a great time of year to host many types of outdoor events and fit the theme of the season. If you're looking for some ideas, we have some suggestions to get you started!
Start or Join a Summer Golf Tournament
Golf is extremely popular this time of year, and a great way to raise funds for childhood cancer and related blood disorders research. The MACC Fund hosts several golfing events through the summer that you can be a part of including: Back the MACC, Kids for Hope Pro-Am, and the MACC Fund Open. You can also start your own golfing tournament and we're happy to help!
Partner with Your Employer to Host Fun Events
There are so many ways to involve your employer from hosting an internal bake sale to having an outdoor tournament like cornhole (or bags to some!). Your coworkers can enjoy a fun time for a good cause and your employer might be willing to match your efforts!
Host a Car Wash
Go for a classic and host your own car wash! With just a few volunteers, you can raise significant funds for research on a warm summer day.
Swim, Bike, or Run for Research
This is an easy way to get involved by participating in an existing event like the Trek 100, which offers different route options for various skill levels. You can also organize your own event within your community or personal networks.
Think Outside the Box
This year, we're offering a unique event opportunity through our newest event MACC Fund Goes Over the Edge. Event participants will rappel down the 10-story, 147 ft. Wintrust building in downtown Milwaukee while fundraising for research. This is a special challenge and a wonderful way to give back!
Anything Can Happen
The truth is almost anything can be an event or fundraiser if you're passionate about it. Supporters have done everything from board break-a-thons (karate tournament) to fantasy sports leagues that donate proceeds to summer concert venues that benefit our mission. If you have an idea, go for it! Our team is here to help you every step of the way; email us today with your idea and join our fight to fund a cure.