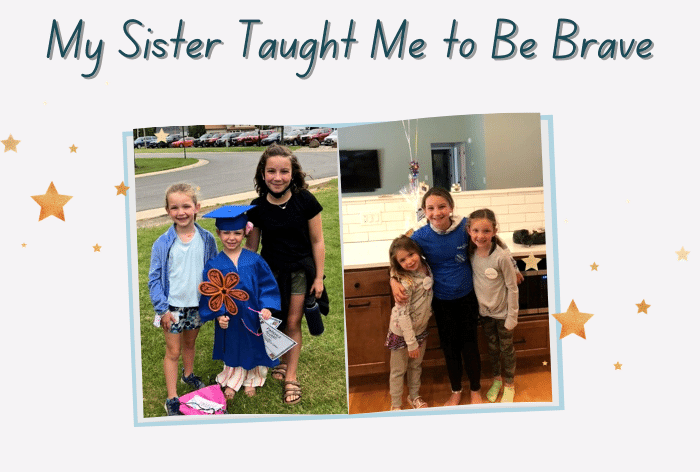 My Sister Taught Me to Be Brave
In the world of childhood cancer, siblings of cancer patients don't always get to share their experience. While it is important to share the stories of cancer patients, survivors, and those we have lost, it is also important to share the stories of Supersibs to understand the full scope of cancer's affects. Cancer affects every family member differently, but for 7-year-old Reese it showed her how strong her sister Harlow truly was and taught her how to be brave in turn. Learn more about her experience, in her own words, in this touching and honest story.
Supersib Reese
"My name is Reese and I was 4 when my sister Harlow was diagnosed with Leukemia. Today I am 7 and in the 2nd grade (the same age and grade my sister was when she was diagnosed). I remember my mom and dad coming home from the hospital and telling us that Harlow had cancer. I didn't really know what it meant but I knew that she was pretty sick. Her legs were hurting her a lot, she had to take lots of medicine and sometimes they would make her sick. My mom and dad spent a lot of time taking Harlow to the doctor and I would spend time with my grandma and grandpa and aunts and uncles.
Sometimes we would visit Harlow when she was in the hospital. It would make me sad because I just would miss all of us being at home, it also made me sad seeing her get sick.
We had lots of family and friends that helped take care of me and my little sister Rowan. They always made us feel special and helped us when we were missing our mom and dad.
Harlow was so brave and cancer was no fun for her, she taught all of us how to be brave. I thought Harlow looked so cute when she was bald and she didn't let that bother her. Cancer was tough and I am so glad Harlow is done with treatment and we can spend lots of time as a family!"
Interested in sharing your story? Email us today and share your experience with childhood cancer and related blood disorders.