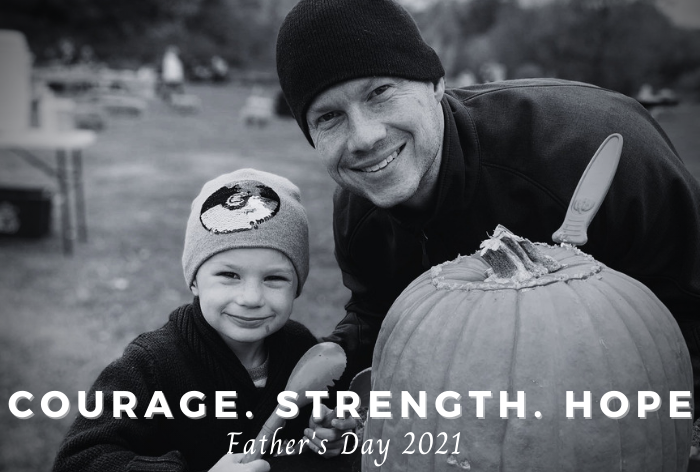 Strength, Courage, Hope: Father's Day 2021
Over the past 19 months since our family began our cancer journey, we've met a tremendous amount of families with their own story.  Through these encounters and our own experience, I've come to realize the link to cancer requires only a single degree of separation. At first thought that may appear somber, but if viewed from a different angle it also is incredibly powerful.
At times I've thought about the common themes or feelings that are described when someone shares their story of cancer: acknowledgment of vulnerability, praise for being courageous, an altered perspective on life, and a limitless drive for a cure. I find all of those to be equally vital in our pursuit to eradicate cancer from this earth. That said I'd like to also recognize cancer as something that unites us. I watched it first-hand bring out the best in people. Put simply, cancer devours the minor inconveniences & trivial stressors that we all too often trouble ourselves with.
In full transparency I occasionally struggled with feeling like we would be able to adequately show our appreciation for the extent of kindness we were shown. However, in time I came to realize that support, in all different forms, is one of the rare things given freely. These acts of kindness aren't performed out of sympathy but rather a sense of community and are uniquely uplifting & inspiring. Those fighting cancer notice the momentary eye contact, smile, or head-nod of a stranger in public when they see a child's bald head from chemotherapy. Friends and family shaving their heads in an act of solidarity is perpetually energizing. Meal trains of buttered chicken, homemade Italian, and especially pitchers of high-octane margaritas are more valuable than any material gift. A teammate checking-in with a simple "you good?" on the sideline of the basketball court or soccer field is exactly the subtle encouragement needed in the moment when you're exhausted from constantly giving extensive updates on the state of treatment. In short, no gesture goes unnoticed by those impacted by cancer. It's these acts that bring us together, enable us to persevere, and for that I say THANK YOU to everyone involved in our cancer journey.
We are blessed that there are numerous ways for people to continue to actively show their support and I encourage everyone to contribute in a way that is authentic to you. For our family, this takes form in the Scenic Shore Bike Tour hosted by the Leukemia & Lymphoma Society. In a bit of coincidence, I participated in this ride several times prior to our son's diagnosis with Lymphoma. Originally the motivation was simple: it supported a cause we believed in, promised picturesque views of Lake Michigan, offered quality time with friends, and guaranteed a healthy dose of exercise. Now this ride is as deeply connected in our life as just about anything. If you'd like to get involved or participate, you can find event information at https://events.lls.org/pages/wi/2021scenicshore150/. We ride under the team name of Milo the Hulk and look forward to meeting even more people in support of the fight against cancer.
Happy Father's Day to all the dads out there!
If you would you like to make a donation in honor of cancer families everywhere, please visit www.maccfund.org/donation