2015 Wheel & Sprocket Bike Expo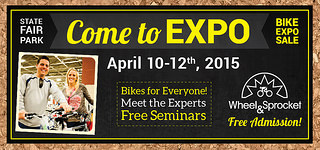 We are excited to be at the 2015 Wheel & Sprocket Bike Expo. Come out and visit us at our booth, we'll be signing up riders and volunteers during the event. Everyone that registers at the booth will receive a pair of training socks.
The Expo will be open on Friday, April 10th from 12pm-9pm; Saturday, April 11th from 10am-6pm and Sunday, April 12th from 11am-5pm. Once again it will be held at State Fair Park, Wisconsin Exposition Center – Hall A. (8200 W. Greenfield Ave., Milwaukee). Check out http://bikeexposale.com/ for additional details.
See you there!
Contact Information
Colleen Moran
Development Officer
MACC Fund (Midwest Athletes Against Childhood Cancer, Inc.)
10000 W. Innovation Dr., Suite 135
Milwaukee, WI 53226