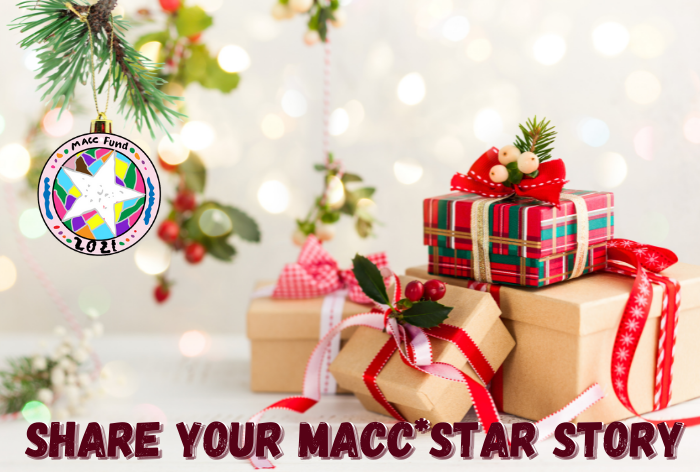 Sharing Your MACC*Star Stories and Traditions
Diane DeWinter
Diane DeWinter's story began in 1995 when her son Michael "Pooch" Kamke designed that year's star following his diagnosis with Burkitt's Lymphoma. Pooch was grateful for research being done and always believed that he was given more time thanks to the experimental treatment supported by the MACC Fund. Pooch sadly passed away following a diagnosis of a second cancer (sarcoma) on August 13, 2019.
Diane tells us that two days before he passed away, he said, "The only thing that makes this okay is that I was given 24 more years." Pooch was told he would never have children, and he had two sons. "I wish there was more childhood cancer data from when children survive the first cancer and then develop a cancer later on in life", Diane said.
Now Pooch will always be remembered by those who loved him and those who never had the chance to know him in his timeless MACC*Star design. It is for Pooch and all those who are at risk for a cancer relapse that we continue to push for better treatment options and a cure.
Greg Riegel
Greg's MACC*Star journey, like Diane's, began in 1995. When he was 26 years old, he learned about the MACC*Stars and decided to start a tradition that could make a difference for children battling cancer. Every year since then Greg purchases a MACC*Star and writes a specific memory on the back of the star to commemorate the year. Some years it's a sad memory of someone passing away, a world event that had a huge impact, or a happy personal memory that brings a smile to his face.
After several years of collecting, Greg accumulated enough MACC*Stars to place them on their own small tree each year (pictured here). Around the holidays each year, Greg and his wife sit down and read the stars. They remember the child who designed each year's star, reading their story, and reflect on the memory that defined that year in the own lives. Finally, they place the stars on the tree, which they call their memory tree.
"It is a very special time that we must celebrate the Christmas season along with keeping the kids in our hearts and sharing our memories.  We are thankful for the MACC star as it has become a wonderful tradition."
Diane Arneson
Diane Arneson's story began in 1988 with the birth of her first child when the first MACC*Star was released. Since then, Diane and her family purchased a MACC*Star to add to their tree. Her three children love the tradition, each of whom wanted to carry on the tradition with their mother's collection.
Sadly, in November 2020, Diane's husband and the kids' father passed away. Last Christmas was their first without him, but all three children received their own MACC*Star collection. Now they can carry on the tradition with their children, a tradition that is even more precious to them now.
"What is sad is the fact that the MACC*Stars are available because there are sick children.  My husband and I were so blessed with three healthy children and now three healthy grandchildren. I will continue to buy them to add to the three collections until I no longer can, or hopefully don't need to."
Dawn Gentry
In October, Dawn Gentry celebrated her granddaughter Isla's 5th birthday without her here after a battle with childhood cancer. Dawn shares her memory of Isla below:
"Not a day goes by that we don't remember Isla's bright smile and infectious laugh. During her year of hospital stays. Isla was surrounded by beeping machines, watchful nurses, and connected to wire monitors 24/7. But she was also a delightful (and feisty!) preschool girl who loved stories, songs, and make-believe. She learned new things at an exponential rate like every 3-year-old and kept us in stitches with her antics.
For an entire year, she was "at home" both with her caregivers and hospital routines playing hide and seek or "Follow My Lead" with the residents as she rode the halls on her giraffe. But she also loved being at home with siblings and parents in her home in Wauwatosa where we were so happy to share her final birthday, Thanksgiving, Christmas, and even Mother's Day. Her favorite song was "Twinkle, Twinkle, Little Star" and the MACC*Star will always remind me of hearing that song in her sweet voice.
We miss her so."
*Isla is pictured here on their Christmas tree next to the 2019 MACC*Star designed by Harlow Millies and her favorite character Daniel Tiger.
Share Your Story
Do you have your own MACC*Star story you'd like to share? Email us so we can share it!