Fighting Childhood Cancer One Connection at a Time
When it comes to childhood cancer and related blood disorders research, there are many ways to support the cause. There are always new events to be created and planned, new ideas to be explored; one of those ideas led to creation of the inaugural Networking Night for MACC, the first event of its kind hosted by the MACC Fund Emerging Leaders Board (ELB). The event was held at the scenic rooftop of Glass + Griddle in downtown Milwaukee on Thursday September 19th.
Networking for a Cause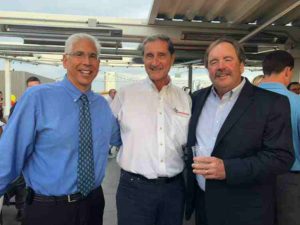 Thursday night was warm and clear, with only the slightest hint of rain in the air, as over one hundred professionals gathered at Glass + Griddle for the first-ever Networking Night for MACC. While there were many people in attendance who are known for their connections to the MACC Fund, like the McGlocklin family, Dr. Margolis, and MACC Fund ELB members, there were just as many attendees who are new to the organization. The ever-growing network of the ELB and staff members led to a diverse group of professionals from across the state, some of whom traveled all the way from Green Bay to attend this event.
A Moving Demonstration
Not only was the event a fun experience for everyone involved, it was also a chance to showcase just how widespread childhood cancer is across the state. Seven attendees stood up to share their story with childhood cancer and related blood disorders, many of whom are members of the ELB. Dr. Margolis, of Children's Hospital of Wisconsin, also spoke, "The real reason we do this is [because] we demand, the kids demand, 100% quality of life survival. That comes from understanding the biology of the cancer or blood disorders and it comes from clinical trials, so that we can take that knowledge and translate it into a cure." The way to achieve these goals is through funding for research, which is why events like Networking Night for MACC are so important. To see other MACC Fund events, visit www.maccfund.org/events/
A Collaborative Effort
The last person to speak was the recently minted MACC Fund President &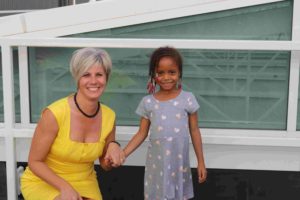 CEO, Becky Pinter. "Without you all being here, without your help and support, we wouldn't be where we are today." In addition to the wonderful connections made between professionals who wish to support the MACC Fund's mission, Networking Night for MACC also raised $8,700 that will support childhood cancer and related blood disorders research.
A Big Thank You
The MACC Fund team would like to take a moment to thank the ELB members who helped to plan and support this event. We would also like to thank our amazing sponsors Packers Give Back, the Canino Family, Milwaukee Bucks, and Gruber Law Offices without whom this event wouldn't be possible. Networking Night for MACC was such a success, we will be planning another one for a future date. When the time comes, we hope that you will join us in fighting childhood cancer one connection at a time!