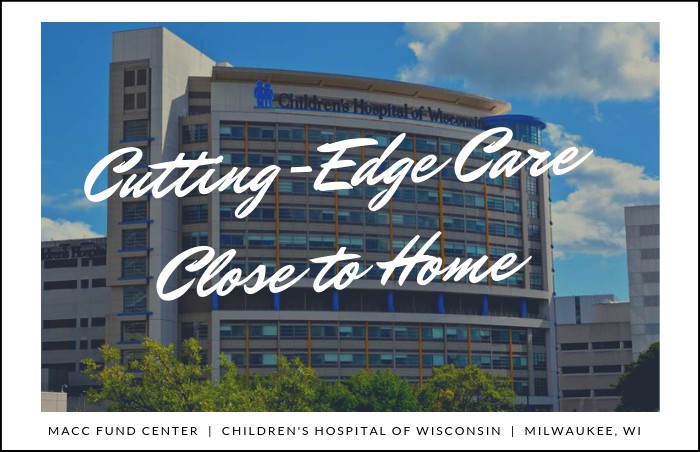 Cutting-Edge Care Close to Home
Located just off the highway in Milwaukee, WI, the MACC Fund Center at Children's Hospital of Wisconsin is newly-renovated and state-of-the-art, housing some of the best pediatric oncologists, hematologists, and transplant physicians, as well as some of the bravest cancer patients, who fight daily to overcome their illness. And while the facility itself is home to one of the largest childhood cancer and hematology programs in the U.S, what's more notable is the amazing care and compassion that the doctors, nurses, and other medical professionals show their patients every day.
"Children's Hospital of Wisconsin is here to provide cutting edge, compassionate care to children and young adults facing the impossible: a diagnosis of cancer or blood disorder. Working in the MACC Fund Center at CHW is an honor—we get to support patients and families through some of the hardest times of their lives. We are daily witnesses to the courage, strength, and resilience of children", said Lauren Giuliani, Service Line Executive Director in the Hematology, Oncology, and Bone Marrow Transplant Department.
What sets the MACC Fund Center apart is their comprehensive, research-based program, which provides critical care to patients across the Midwest. If you ask anyone at the hospital, they'll tell you that when a child enters the facility, they become a member of the MACC Fund Center family. An important step in treatment is to maintain a sense of normalcy, as much possible while a child is undergoing extensive treatment. Thankfully, the MACC Fund Center at Children's Hospital offers clinical trials from phase 1 to phase 3, meaning their patients receive cutting-edge, high quality care close to home.
"We couldn't provide this level of research-directed care without our community partners at the MACC Fund," Giuliani asserted. "The MACC Fund has supported our program enabling clinical trials, fostering tomorrow's cures by funding investigator directed research, and enabling cutting edge immunotherapy by purchasing critical lab machines and supplies—just to name a few. Pediatric cancers receive only 4% of national research funding—if we're going to move the dot on finding cures, we've got to fund the research without relying on others. We've got to step up for the kids ourselves. Simply put, no kid fights alone, and The MACC Fund makes sure our patients know they've got a whole community cheering them on!"
The MACC Fund is dedicated to the continual support of the MACC Fund Center and the many patients receiving care there. Please join us in our fight against childhood cancer and related blood disorders by donating today at www.maccfund.org/donate/ Donations made will directly support research at the MACC Fund Center at Children's Hospital of Wisconsin, providing funding for research into more effective treatments as well as cures for these devastating diseases.