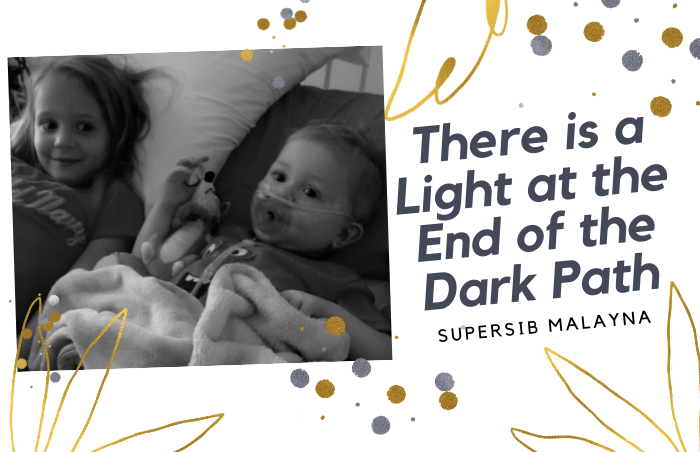 There is a Light at the End of the Dark Path: Supersib Malayna
14-year-old Malayna's life was changed the day her brother Hayden was diagnosed with Acute Lymphoblastic Leukemia in 2010; a moment that would be burned in her mind forever. As a Supersib, Malayna often felt alone and misunderstood but as she became older, she was better able to process her brother's diagnosis. Now, with a strong support system and close friendships, she is able to make sense of the changes in her life and even look toward a positive future. Read about her memorable journey below.
A Memory Never Forgotten
A strange orange race car. Such a small detail in such a large story. It was a sunny day with few clouds, a great day to be racing. My dad was on the phone with my mom when he took off running. I looked around and there was this strange orange race car that I remember vividly. I grabbed my sister's hand and took off after him. My dad was yelling at my grandparents to help him with the car. He packed everything quickly and I just stood there. He paced the whole way home, and I was scared. I didn't know what was happening except that my brother, Hayden, was sick. That sunny day turned into a dark and stormy day. That was 10 years ago, and I still remember it in perfect detail. From there on out, a part of my identity became a sibling to a cancer patient. I was no longer a normal kid in the eyes of others.
A Supersib's Experience
Cancer is hard. Not only on the patient and the parents, but also the siblings. Many people overlook oncology siblings during these times. We feel abandoned and sometimes alone. We know it's unavoidable and unintentional, but we all still feel it. My brother was diagnosed with Acute Lymphoblastic Leukemia in August of 2010, when he was 9 months old. I was 4 at the time. I didn't understand the importance of what was happening around me. I was just jealous of the attention my brother was receiving.
While I don't remember much of Hayden's treatment, I do remember some parts. I remember the smell of the hospital and how to get to Hayden's room in the HOT Unit. I always felt special whenever I got to wear the visitor's badge. Sadly, I was also scared of him. I knew he was my brother, but he didn't look like my brother anymore. It was hard to see him in the hospital with all of the various machines and tubes. He somehow seemed more machine than person at times when he was really sick.
At home, our kitchen was overtaken by all of Hayden's medicine and medical supplies. Some of the machines from the hospital also had to come home with him during the two years he was on therapy. Hearing the beeps and alarms from his room was always unsettling.
An New Understanding
About a year into his treatment, I began to understand how vital the care he received was. Because of this understanding, it has influenced how I look at life. NOTHING is taken for granted. My feelings and emotions are shared freely and often with those I love. It also influences my potential career choices and how I respond to others going through similar situations.
Over the years I gained the understanding that I wasn't abandoned. I had people around me, I just never saw them. I have strong friendships because of the effects of cancer. I became close with many people who had experienced or were currently going through the same things I was. These other siblings were some of the most understanding and supportive people I have met.  They understood and felt the same emotions I did. Some of them lost their sibling to cancer, and others, like me, are coping with the knowledge that their sibling's cancer could come back at any time.
Ask for Help
My advice to anyone struggling with a sibling's cancer diagnosis and the feelings that come with it, is to find a support system. There is a lot of emphasis on support for the patient and parents, but siblings need to utilize the resources available to them too.  Ask for help. The people that have gone through similar things are always going to be considerate of you. They will support you and be there when you're broken. Cancer is a horrible thing that unfortunately many will deal with. I believe there is a positive.  There is a light at the end of the dark path, you just have to wait out the storm and bring an umbrella.
Interested in sharing your story? Email us today and share your experience with childhood cancer and related blood disorders.