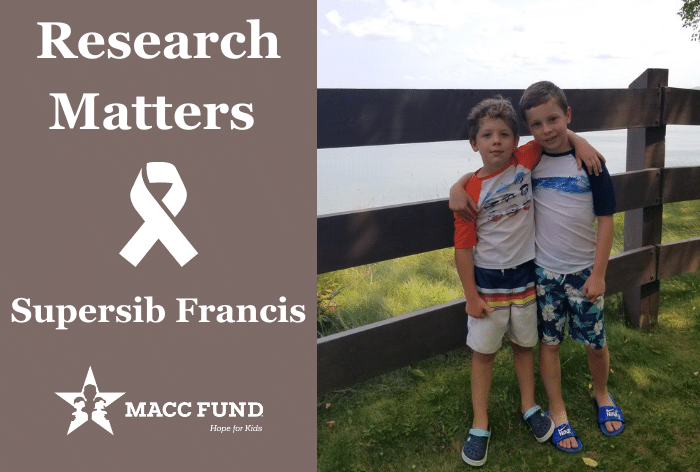 Research Matters: Supersib Francis
Older brother, best friend, Supersib; these words all describe Francis whose brother Drew was diagnosed with ALL when Francis was just 4 years old. It takes courage to battle childhood cancer, but it also takes courage to remain strong for a sibling. Learn more about the strong bond between brothers, Francis' thoughts about his brother's treatment, and how their family is doing today.
Supersib Francis Shares His Story
When Drew, my younger brother and best friend, was diagnosed with Leukemia, I was sad and scared all of the time.  I had so many questions like, "how are we going to get through this? How will this affect him? How do we make this better? Will he get through this?" I was young and was not aware of really what was happening or what having Leukemia meant. Drew was 21 months old when diagnosed and I was four years old. As I got older and saw all of the medicine he needed to take and all of his doctor appointments, my concern grew. I learned that Childhood Cancer is not only scary but can be deadly.
On September 24, 2019, two years into Drew's treatment my parents came home from Drew's doctor appointment very happy. The doctor said to my parents "would you like to stop chemo today?  We have new study results and recommend he stop treatment 7 months early!" That night we recorded his last chemo. I gave him his last daily oral chemo as he took it crushed and mixed in chocolate syrup. I was so excited and happy.
A few months later, we celebrated his End of Treatment Party. It was then that I felt Drew was going to be okay. I think research is very important, because if they did not do that advanced stuff, Drew would not have stopped early and maybe not have as successful of results.
To learn more about Drew's cancer journey, you can visit https://maccfund.org/blog/a-new-beginning-drews-battle-with-all/
Interested in sharing your story? Email us today and share your experience with childhood cancer and related blood disorders.