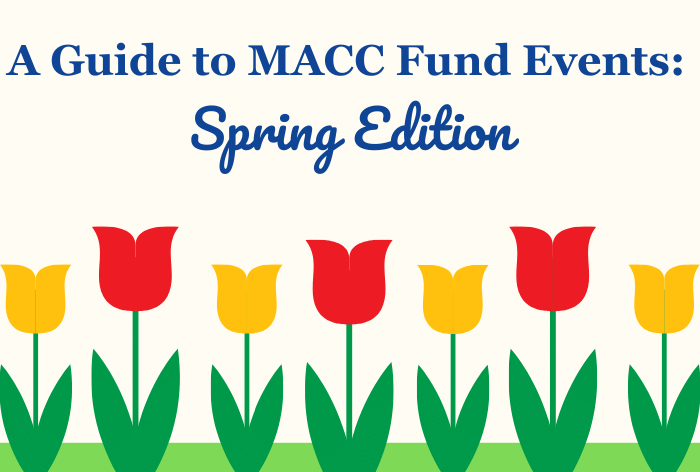 A Guide to MACC Fund Events: Spring Edition
With all the amazing events that we host, and others host for us throughout the year, it can be difficult to choose what events to attend. If you've been wondering what spring event is right for you, we have the answer! Check out the breakdown below about what makes each event special and help you decide which one is right for you as a sponsor, volunteer, or participant!
MACC Fund ELB Blood Drive
This is a returning event hosted by the MACC Fund Emerging Leaders Board at the Versiti Blood Center of Wisconsin located in Wauwatosa on Friday, March 11th. It's a wonderful way to give back, and every donation will save up to 3 lives! This is a great event with a short time commitment that you can fit in on your break, lunch, or after work. Just make sure to eat and hydrate! Sign-up for a shift at https://bit.ly/ELBheroes0311
Dine out for the MACC Fund
We're teaming up with Dr. Dawg of Wauwatosa to support childhood cancer and related blood disorders research. To participate, simply dine-in, carryout, or order online on Saturday March 12th 11am-8pm, Tuesday March 15th 5pm-8pm, or Wednesday March 16th 5pm-8pm at Dr. Dawg in Wauwatosa. This is a great way to have a delicious dinner and support our mission! Learn more: https://fb.me/e/1CjQ6hlHh
Lucky Leprechaun 7k
This is the 10th anniversary of this great event; a run or walk through the beautiful town of Wauwatosa in St. Paddy's Day style on March 12th! This is a fun event for serious or relaxed runners that also includes a great Post-Race Party featuring live music, drinks, and food. While this requires more of a time commitment from participants, you'll have the time of your life celebrating and making a difference for kids! Register now: https://www.luckyleprechaunrun.com/ We also need a few more volunteers join us, and you can sign-up at the website above!
Milwaukee Wave
Join our team for the upcoming Milwaukee Wave versus Dallas Sidekicks game at the UW-Milwaukee Panther Arena where we will be the featured non-profit on April 2nd at 6:05pm! This is a fun, relaxing evening that will support our fight and ideal for families, friends, or individuals of all ages. A portion of ticket sales will be donated to our mission, but attendees must use our specific link: www.bit.ly/mke-wave
Bob & Brian Radiothon
The Bob & Brian Radiothon has been a fan favorite for years and is returning on April 7th and 8th! For two days, you can tune in to 102.9 The Hog to learn more about our mission and hear live interviews throughout the day. Participants can also bid on unique items at the online auction. Plus, all donations of $50 or more will receive an exclusive t-shirt! This is an event that you can participate in from anywhere and includes memorabilia that you can enjoy for years to come while supporting our mission. Learn more about the upcoming radiothon at: https://maccfund.org/bob-and-brian-radiothon/
The Ringer (Chicagoland, Cleveland)
The Ringer is an annual event symbolic of the special moment a child "rings the bell" signifying the end of their cancer treatment. Participants play 100 holes of golf in a marathon style event while fundraising for childhood cancer and related blood disorders research. The event has now grown to include three different locations including the original Ringer at the Bog Golf Course (April 28th), the Chicagoland Ringer at Bull Valley Golf Club (April 25th), and our newest event, the Cleveland Ringer at Westwood Country Club hosted in conjunction with Prayers for Maria, a Children's Cancer Foundation (May 2nd). While the Ringers are invite-only events, there is always the opportunity for new golfers to join so contact us about getting on the waiting list!
There is also an opportunity for sponsors for all the events, which you can learn more about at www.maccfund.org/events. Simply select the Ringer location you're interested in learning about! Individuals can also get involved by donating to the various participants and helping us reach our goal! Donate to a participant's fundraiser at:
https://www.justgiving.com/campaign/ringer-2022
https://www.justgiving.com/campaign/chicagoland2022
https://www.justgiving.com/campaign/cleveland-2022
MACC Fund Invitational
This is the 16th year of this wonderful event where young golfers from across the state come together to fundraise for one cause: childhood cancer and related blood disorders research. This year the event has expanded, now including two locations at Erin Hills Golf Course and The Club at Lac La Belle. The event is free to spectators, but there's also an opportunity to support these amazing young golfers by donating to their fundraisers at https://www.justgiving.com/campaign/MFI22. If you'd prefer to support the entire event rather than a single individual, there's also a variety of sponsor levels to choose from! Learn more about sponsorship: https://maccfund.org/macc-fund-invitational/
The MACC Fund Invitational also needs a lot of volunteer support at both locations. Volunteers will be acting as marshals for the event, typically at the tee giving directions or in the fairway/green helping to spot players' shots. Each volunteer is asked to make a 3-to-4-hour commitment, but if you want to stay longer, we're happy to have you! If interested, please email the volunteer coordinator for this event Ed Swab at eswab@pgahq.com
We hope you found the event that fits you best, but if not stay tuned for "A Guide to MACC Fund Events: Summer Edition" to learn more about other upcoming events! We also recommend joining our volunteer group where you receive any volunteer opportunities not listed here. Join now: https://maccfund.org/volunteer/