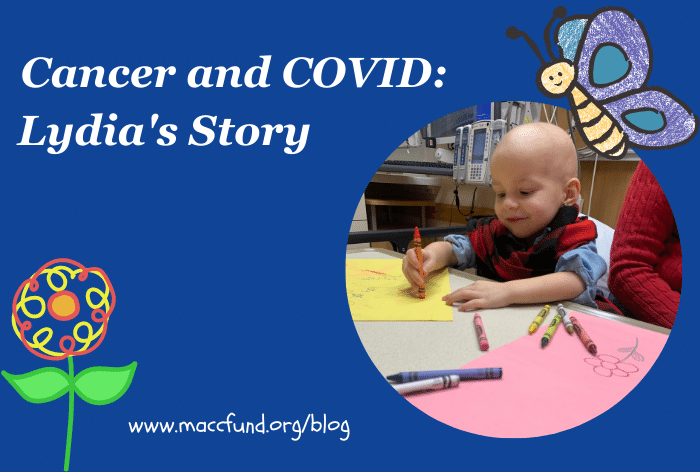 Cancer and COVID: Lydia's Story
An important step in research funding is raising awareness. Hearing the stories of these courageous, strong children helps us realize what we're fighting for and we hope that you feel the same. With that in mind, we want to share Lydia's story as shared by her mother Sara.
Cancer and COVID
In the midst of COVID, 2-year-old Lydia was diagnosed with Clear Cell Sarcoma of the kidney in August of 2021. As part of her treatment plan, Lydia is set to undergo ten rounds of chemotherapy in March, six days of radiation, kidney and tumor removal surgery, and several hospital stays due to low counts.
"Lydia has endured everything like a champ with the help of the MACC Fund staff," her mother Sara said. "They do everything they can to calm our 2-year-old down and help her have good days. As you can imagine, it isn't easy to get a 2-year-old to cooperate. The nurses have done everything they can to put her mind at ease. We are so grateful for them."
"Also, we couldn't be more pleased with the staff and how they treat Lydia's brother, Bennett (6)," Sara added. "Covid makes things tough but they find ways to include him and make sure they are checking up on him."
This is why we continue to fight: for 2-year-old Lydia and the thousands of children facing the same battle. Join us in that fight by raising awareness, attending or volunteering at events, and donating to research that can save lives.
Interested in sharing your story? Email us today and share your experience with childhood cancer and related blood disorders.