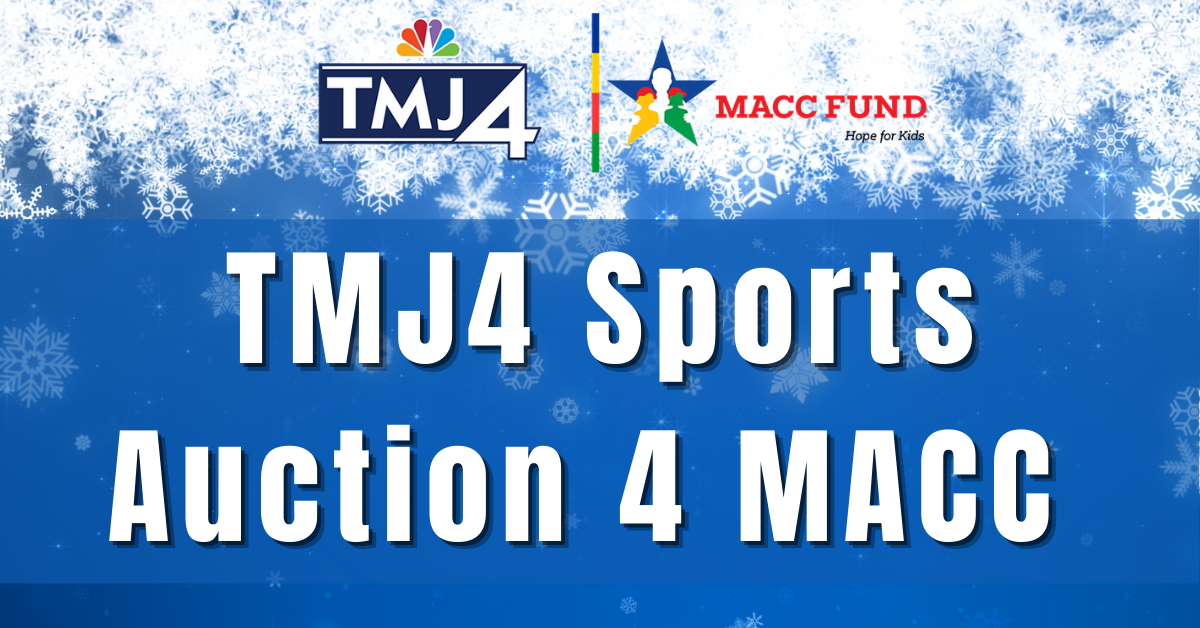 The 2020 TMJ4 Sports Auction 4 MACC Sets a New Record

2020 TMJ4 Sports Auction 4 MACC
In a year full of uncertainty and unprecedented difficulties, one thing remained constant and that is the community support behind the MACC Fund and our annual TMJ4 Sports Auction 4 MACC, which took place the week of December 7-11. The Sports Auction is a long-standing holiday tradition where sporting and recreational experiences, as well as sports memorabilia are auctioned off online, with the help of our media partner TMJ4 promoting over newscasts throughout the week. All proceeds raised go to funding research for childhood cancer and related blood disorders.
A New Record
This year was one for the books! Despite the challenges 2020 proposed in terms of not allowing fans into ticketed events such as Bucks games, Brewers games and Packer games, all of which are historically popular items to bid on, we were able to collect an amazing selection of 50 packages to bid on, including a limited edition, signed, Bart Starr jersey as well as two very sought-after Masters Badges for the 2021 Masters Tournament at Augusta National. Bidding alone brought in $54,315! In addition to that, we had the support of some very generous matching gifts totaling $17,500 coming from our friends at Z.T. Distribution, Inc., The Walbec Group, and Sutton Transport, Inc, bringing our auction to a record-breaking total of $71,815!
Community Support
It is so very humbling to step back and look at the collection of items and experiences donated by local businesses and friends of the MACC Fund in an uncharacteristically difficult year on so many levels. It is equally amazing to hear so many bidders say, "It's for such good cause" and "It's for the kids." As a mom of a 10-year-old cancer survivor, and now a staff member at the MACC Fund, what this kind of support means can never be adequately expressed in words. It is because of the donors, those doing the bidding and the generosity of matching gifts that my son gets to celebrate another Christmas, and for that, I am forever grateful. Many thanks to all who participated in this year's Sports Auction!