Early Birds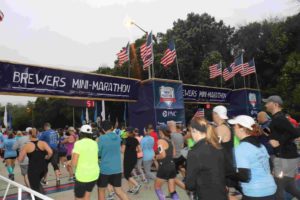 As they say, the early bird gets the worm; and the runners who participated in the Brewer's Mini Marathon on September 28th certainly fit the bill. Arriving at 6:00AM, the runners prepared to run a half-marathon, 10k, or 5k. The course took them on a route through Milwaukee with great views of landmarks like Miller Valley, the Harley-Davidson Museum, and the Miller Brewing Company, ending with a lap around Miller Park where spectators were waiting to cheer them on. In the last seven years, the Brewer's Mini has raised over $240,000 for childhood cancer and related blood disorders research. This year was a huge increase over the 2018 marathon, bringing in over 5,700 runners, almost a thousand more runners than the previous year.
Crossing the Finish Line
Waiting at the finish line was MACC Fund President & CEO Becky Pinter and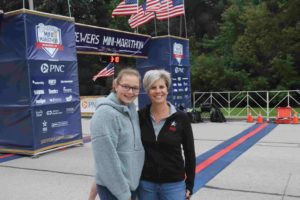 cancer survivor and former MACC Star Designer, Maggie Schlehlein. As the runners crossed the finish line, the first male and female runners who crossed ran through a banner held by Becky and Maggie, signaling their victory. The male winner of the half-marathon, Matt Barrett of Verona, WI, ran the 13.1 miles in just over an hour, with an almost ten-minute lead on the other half-marathon runners. The female overall winner also posted an impressive time, completing the race in just under an hour and a half.
A Reason to Run
While the half-marathon, 10k, and 5k were a main feature of the day, a speech from Maggie reminded everyone why we were there. Maggie, an almost ten-year survivor of Acute Lymphocytic Leukemia (ALL), spoke to all the runners at the closing awards ceremony sharing her story. "Events like this help kids like me survive," Maggie told the gathered crowd, "Thank you to everyone for being here and supporting childhood cancer and related blood disorders research." Maggie was the 2013 MACC Star Designer, and is now in high school, thanks to treatment that saved her life. Learn more about the MACC Stars here.
Event Sponsors
Thank you to the Milwaukee Brewers, Presenting Sponsor PNC Bank, and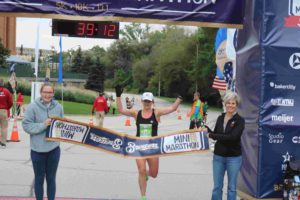 Race Management company Vision Event Management, for hosting such a wonderful day supporting childhood cancer and related blood disorders research; we couldn't be happier to have such wonderful partners. Thanks are also in order to the many other sponsors of the event including:
MVP Sponsors: Baker Tilly, WTMJ, Fox Sports Wisconsin, and 94.5 ESPN Milwaukee
All-Star Sponsors: Studio Gear, Sky High Marketing, Chick-fil-A South East Wisconsin, Gatorade, Meijer, Dean's and Sentry
Major League Sponsors: Arena Americas and Miller Lite
Official Health Care Partner: Aurora Health Care
Official Training Partner: Performance Running Outfitters