44th MACC Fund Open: Different Look, Same Purpose
The MACC Fund Open was founded in 1977, making it the first major public event benefiting The MACC Fund in the fight against childhood cancer and related blood disorders. To date, this is the MACC Fund's longest-standing annual event, raising over $2.2 million since its inception. The goal of the celebrity-am outing remains the same as it has been since the beginning: to have an enjoyable day on the course while raising funds to support critical research for childhood cancer and related blood disorders.
A Look at Tuckaway Country Club
Although the MACC Fund Open hasn't always been held at Tuckaway Country Club, it has been hosted at the premier facility in recent years. Tuckaway has a long and illustrious history, partnering with the PGA Tour in 1973, a partnership that lasted for 20 years. Some of the greatest players in the golf world enjoyed the beautiful fairways including Ken Green, Dave Stockton, Mark O'Meara, Lee Trevino, Payne Stewart and Jack Nicklaus. Although the tour left Tuckaway in 1993, golfers continue to enjoy the full-service course, ideal for experienced players and even those who enjoy just playing for fun.
A Message from McGlocklin
On Monday August 24th, the MACC Fund Open kicked off with the same enthusiasm as always, although the set-up of the event looked a little different.
The day began with an inspirational message from our co-founder, Jon McGlocklin, who shared the need for research, particularly in these difficult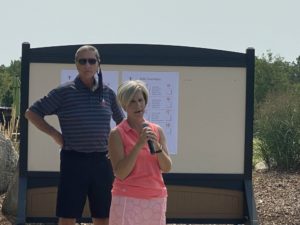 times. The teams of four, along with the celebrity guest set out on the course to compete for the top score, and to have a great time with their colleagues and friends.
Michael Bielawski, the MACC Fund's Director of Development, who coordinates the event year after year was grateful to everyone who participated to show their support.
"The 44th MACC Fund Open was as special a year as ever! It's no secret that COVID has presented several challenges to people in various capacities.  Despite the challenges, a group of 100 folks came together for a great day of golf, camaraderie, and raising critical dollars for kids battling cancer & blood disorders.  Special thanks go to ALL the golfers yesterday, in addition to our sponsors Sutton Transport, Inc. and ZT Distribution Inc. for their loyal support of the MACC Fund. Tuckaway CC once again was a phenomenal host and we look forward to the 45th Annual MACC Fund Open next year."
Overcoming Obstacles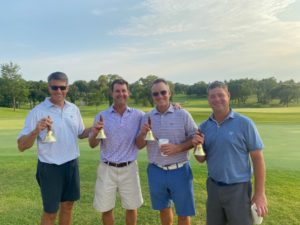 Research funding for childhood cancer and related blood disorders has become more limited in recent months due to the many events that have been postponed or cancelled. However, the support for cancer research must continue because the kids need our support. Thanks to the ongoing commitment of our participants, partners, and donors we can continue to provide hope for kids!