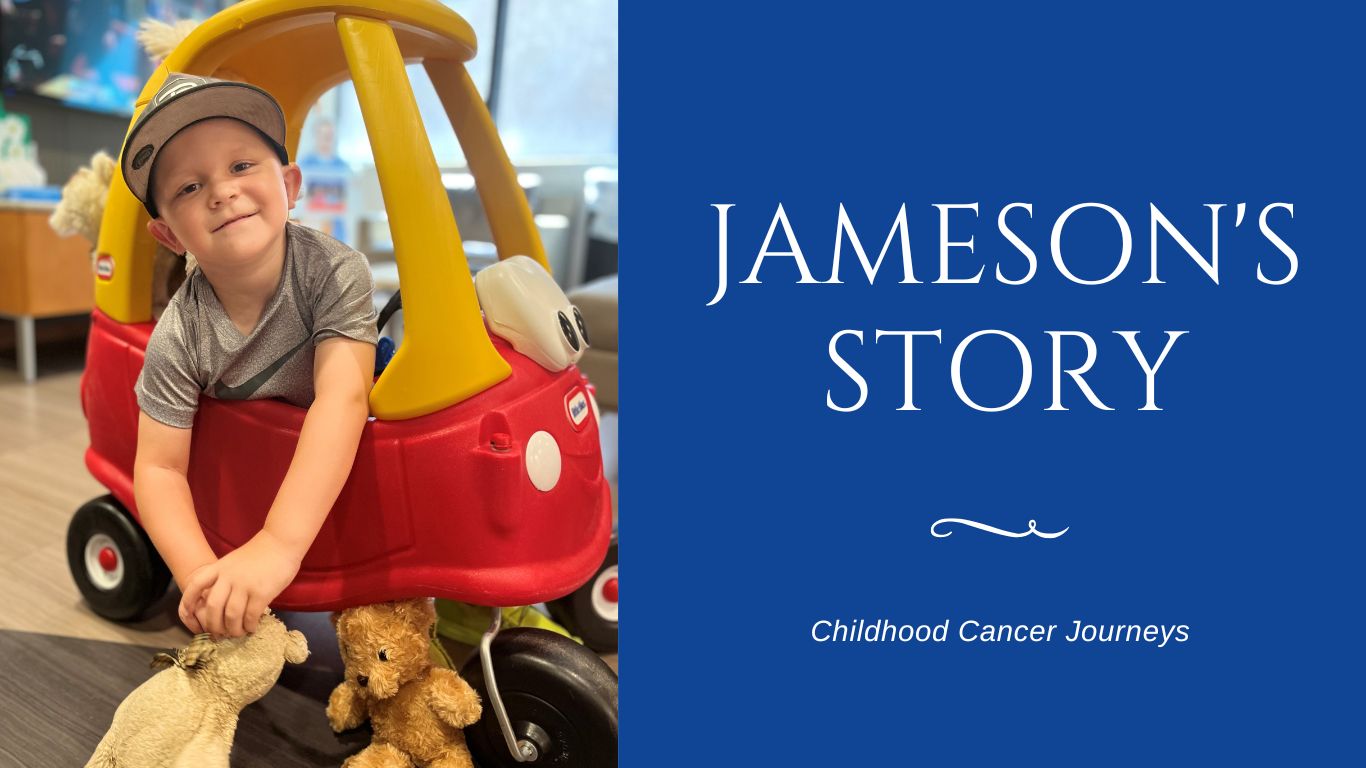 Age: 4
Diagnosis: Stage 4 High Risk Neuroblastoma
Age at Diagnosis: 3
Favorite Things: Lamborghinis & Corvettes, "Harley" (his electric bike), and lake days with his family spent on the pontoon boat
Meet Jameson, AKA Jamo- a fearless little guy from Peshtigo with a big heart. Everyone else comes first to this one, except when he's outriding you on his dirt bike. You will simply be doomed to eat his dust.
This little daredevil certainly knows how to keep his family on their toes. His mom, Jordan, explained they were always at the doctor when he was little- sicknesses, injuries, allergies, you name it. So, when Jameson developed the flu around Christmas 2022, it didn't feel like anything new. That is, until he developed a small lump on his head. It didn't bother him, but Jordan brought Jameson into the doctor just to be sure it wasn't anything serious. The doctor believed it to be lymphatic fluid from the influenza. But the lump kept developing, growing bigger right along with Jordan's anxiety. Something just wasn't right. She finally put enough pressure on the doctor to schedule an MRI. It would be a one and a half month wait.
As they waited for the date of the MRI, the lump tripled in size and Jameson began complaining of headaches; yet the hospital wouldn't allow him to come in any sooner. Then one day, Jameson walked into a recliner and injured himself because he didn't see it.
Jordan was done waiting. She brought her son into the emergency room and demanded he get a scan before leaving. Forty-five minutes after the scan began, the doctor came into the room, tears welling up. Jameson had a giant tumor crushing its way through his skull causing his brain to fold over and twist in on itself. The family immediately got into an ambulance to be rushed 150 miles south to Children's Wisconsin for imaging and blood work.
Two days later, Jameson had his first surgery to remove the tumor. His neurosurgeon said his skull looked like a sponge. The tumor was growing through it, and his skull was no longer protecting his brain. The team removed the full tumor and a portion of skull that was no longer salvageable, replacing it with titanium mesh. After the surgery, he was admitted to the ICU where he was situated with a drain tube and head wrap and intubated with his arms strapped to the bed. But, in true Jamo form, he was sprinting down the hallway later that week. Nothing keeps this guy down.
After what felt like a lifetime of waiting, Jameson's family finally received his official diagnosis- Stage 4 Neuroblastoma. Further scans revealed that an additional solid tumor had developed on his adrenal gland and that the cancer had metastasized throughout his whole body- his arms, legs, feet, hips- cancerous cells were everywhere. His cancer also had the ALK mutation- a mutation generally found in adults with lung cancer, known to increase the risk of relapse.
The long road of treatment would begin with a harvest of his healthy stem cells before receiving high doses of chemotherapy. The cells were frozen for preservation and would be transplanted after induction. After this, Jameson would receive five rounds of induction chemotherapy to shrink both the amount of cancer and the remaining tumor. After the third round, the baseball-sized tumor on his adrenal gland was removed along with two lymph nodes.
Typically, patients receive a stem cell transplant at this point; however, his cancer was far too resistant to the standard chemo- his level of cancer had not budged. He was placed on a stage two clinical trial that offered a more targeted approach to his ALK mutation. And the drug worked. Finally, something was working to gradually nudge his level of disease down.
But there was one catch. To stay enrolled in the clinical trial, his team would need to follow the standard of care which is to transplant. However, Jordan was very uncomfortable with the risk of transplanting while he had lingering disease. She felt stuck with an impossible decision.
After doing her own research, Jordan reached out to a doctor at Memorial Sloan Kettering Cancer Center in New York for a second opinion. That doctor agreed it was too risky to transplant, but there was concern about Jameson losing access to the trial drug that had proven itself to be so effective in his treatment. The MSK oncologist generously helped Jameson's family and the CW team find a loophole and was able to prescribe the drug off the trial, giving Jameson continued access to it as long as necessary. Additionally, this doctor suggested chemo-immunotherapy in addition to the trial drug. St. Jude has been successful using it in the induction phase, and they hoped it would be the last push Jameson needed to get into remission for transplant.
Collaborative efforts between hospitals, rooted in a shared care for the best interests of the child, is something pediatric oncologists have a reputation for. These dedicated doctors are no different. This collaboration between Children's Wisconsin and Memorial Sloan Kettering Cancer Center is a true testament to the commitment pediatric oncologists have for their patients and the overall progress so desperately needed in this field. And this collaboration has brought Jameson's family hope again.
Between treatments, Jameson has been attending 4K and riding dirt bikes with his family, all with his usual limitless energy. And though he's had minimal side effects from his therapies- like so many kids in treatment- he has suffered dangerously high fevers and heart rates, low oxygen levels, breathing treatments, multiple surgeries for a central line that won't stay put, and significant hearing loss in both ears.
Jameson is not in remission yet, but recent scans show reduced disease thanks to the chemo-immunotherapy. Jameson will receive another two rounds before his next scans that will hopefully reveal remission. After remission, there will be a transplant. After transplant, comes radiation.
There will be a long road ahead, but Jordan reiterated how pleased she is with the collaborative efforts between the doctors at Children's Wisconsin and MSK. "They all have the same goal, and that is to save your kid." She feels at peace knowing Jameson's team is turning over every stone on this long road to ensure he gets to the finish line.
And still, the reality is this. A child's diagnosis affects more than just the child. Both of Jameson's parents have had to leave their jobs due to the unique challenges of caring for a child with cancer. They've had to pay out of pocket because insurance companies still haven't caught up with everything pediatric oncology can require. And living hours away from Children's Wisconsin has brought its own financial costs as well as safety risks when home.
Jordan is exhausted. And so is every other parent in the MACC Fund Center. They are exhausted from the weight of holding up their whole family as their little warrior fights with everything in them for their shot at a long life. "Just spend a day on this floor. Childhood cancer, it's real. You don't know how good you have it until it hits you."
Let's push for better for them.
Thank you for supporting research. Thank you for giving hope.