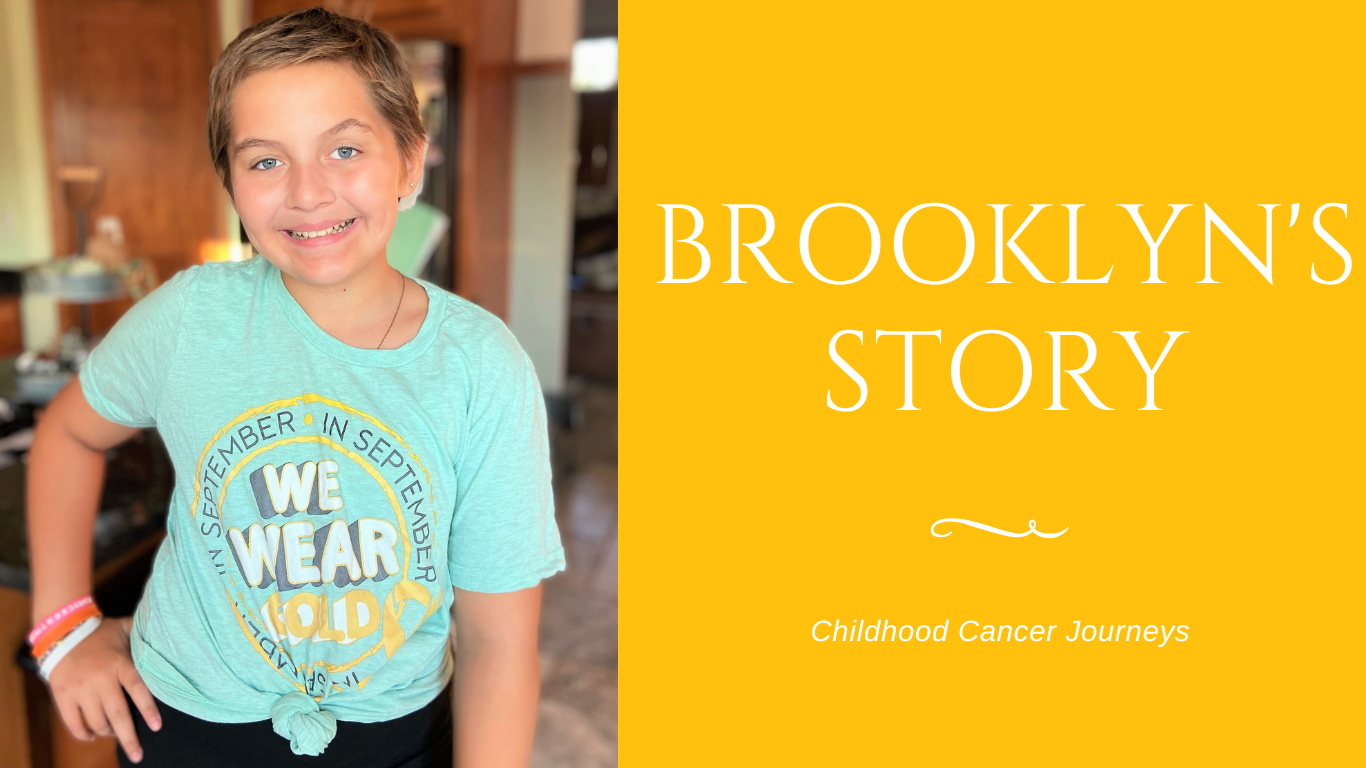 Age: 11 years old
Diagnosis: High Risk Acute Myeloid Leukemia
Age of Diagnosis: 9 years old
Meet Brooklyn- A hilarious 11-year-old from Combined Locks, WI who loved playing the piano, singing, art, and making TikToks- living her best life when all eyes were on her. She even enjoyed the spotlight during the MACC Fund's Giving Tuesday campaign in 2021 while preparing for her second transplant.
Though she loved being silly and performing, she certainly was not a physically daring child like her brother- precisely why her mom, Cara, was surprised to find significant bruising on Brooklyn's legs in May 2020. Brooklyn was well-seeming; but, out of an abundance of caution, Cara took pictures of the bruises and uploaded them to MyChart, just to run it past her pediatrician.
That day, the pediatrician's office sent Brooklyn in for labs. Within 30 minutes of the blood being drawn, her doctor was on the phone. It was leukemia. She was sent straight to HSHS St. Vincent Children's Hospital in Green Bay to receive a blood transfusion and start chemotherapy that very day. This time can only be described as a complete whirlwind for Brooklyn's family. Within 24 hours, their daughter went from goofy nine-year-old to cancer warrior.
Brooklyn's mutations placed her in the high-risk category for Acute Myeloid Leukemia, requiring her to receive a bone marrow transplant as soon as she could achieve remission through chemotherapy. After her first round, Brooklyn still had minimal residual disease making it clear that standard induction would be ineffective for her. Ultimately, she went through four rounds of induction- each round with a different drug combination- with the hope that one of them would bring her into remission. It never worked. The family had no choice but to transplant while some cancer cells remained.
On New Years Eve 2020, Brooklyn received bone marrow from a 21-year-old donor found on the Be the Match Registry. As her body learned to accept the donor's cells and build a new immune system, Brooklyn became incredibly sick with mucositis. Mucositis is a common side effect that makes the inside of a patient's mouth swollen, raw, and incredibly painful with pussy mouth sores, making it nearly impossible to eat or drink. She received an NG tube for nourishment, but extreme vomiting made it impossible to keep down. The entire experience was incredibly traumatizing to both young Brooklyn and her mom who assisted in holding her down for these procedures. Their last resort was TPN (Total Parenteral Nutrition), a method of feeding through a vein that bypasses the gastrointestinal tract.
After recovering from the transplant and its awful side effects, Brooklyn enjoyed 9 months of remission, and her family moved through 2021 with the hope they'd soon be stepping out from under the dark cloud of pediatric cancer. She went to Camp One Step, graduated to monthly labs, and even began attending school again that fall. But, only three days into the school year, her labs were once again flagged for blasts. She had relapsed.
Brooklyn found herself back in the hospital; once again, miles away from her dad and little brother. With her mom by her side, she bravely faced another round of treatment. This time, her best match was Cara. But the situation soon grew dicey when Brooklyn's neutrophil count refused to recover, ruling chemotherapy out as a treatment option. Her team of doctors sought alternative treatments to help Brooklyn achieve remission for her transplant, and a viable drug trial was found. Though she did not qualify for the study, her doctors administered the trial drug under the watchful eye of the ICU nurses.
Shortly after receiving the drug, Brooklyn began experiencing labored breathing. Fungal pneumonia had taken hold. It wasn't long before the doctors began preparing the family for the devastating truth- Brooklyn would not recover.
Brooklyn put up an incredibly strong fight to the end, pushing herself to stay responsive as her most adored family, friends, and schoolteacher visited her in the ICU for the last time. A mass and a dinner gathering attended by thousands memorialized and celebrated Brooklyn and her beautiful yet too short life soon after her passing.
Though those traumatic two years hold memories of family separation, loneliness, and a constant, nagging fear of the unknown, Brooklyn's mom continues to hold on to the sweet moments within this devastating time:
Watching Brooklyn befriend anyone lucky enough to meet her in the hospital.
The days spent orchestrating elaborate TikToks with her nurses.
That time the child life specialist, Kelsey, brought in buckets of real snow in the dead of winter as a reward for Brooklyn willingly taking all her pills that day. A snowball fight with her transplant doctor, Dr. Margolis, soon ensued.
This same doctor recorded her announcing the Bucks players from her hospital bed to be played at an NBA game.
Camp One Step with friends and nurses.
Moments of self-expression through music and art therapy.
There was good within the bad because of the great love in this family, a caring community of friends and family, and the dedication of the incredible staff at the MACC Fund Center.
When asked how she would describe the pediatric cancer experience to someone who hasn't lived it, Brooklyn's mom only shook her head and said, "You don't want to know."
No one wants to know the true ugliness that is childhood cancer, yet it is vital that we continue to fight to eradicate it. She stressed that there desperately needs to be more treatment options for children like Brooklyn who simply don't respond to the standard chemotherapy regimen at induction. For her, there really was no "plan B", and this is unacceptable.
Brooklyn will forever be in our hearts. We need to do better for incredible young fighters like Brooklyn.
Thank you for supporting research. Thank you for giving hope.