2016 Bob and Brian Radiothon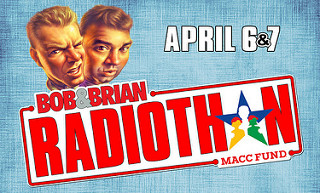 On April 6th and 7th, two of Milwaukee's most popular morning radio hosts — Bob & Brian on 102.9 The Hog — will host the Bob & Brian Radiothon benefitting the MACC Fund. Listeners will be able to call in to make a donation. The MACC Fund is pleased and proud to once again team up with Bob & Brian and the team at The Hog. Bob & Brian have been tremendous supporters of the MACC Fund and have hosted the Bob & Brian golf outing each summer.
On April 9th, Leff's Lucky Town will be partnering with Bob & Brian for the Leff's Lucky Town Leadoff Tailgate Party. This event will also benefit the MACC Fund! Visit http://www.leffs.com/leadoff/ for ticket information.  You MUST be 21 and over to participate in the tailgate party.
Make sure to listen in and make a donation. To donate online, please visit: http://2016bobandbrianradiothon.kintera.org/. More information on the Radiothon can be found at http://1029thehog.com/bob-and-brian.
Contact Information
Becky Pinter
Chief Operating Officer
MACC Fund (Midwest Athletes Against Childhood Cancer, Inc.)
10000 W. Innovation Dr., Suite 135
Milwaukee, WI 53226