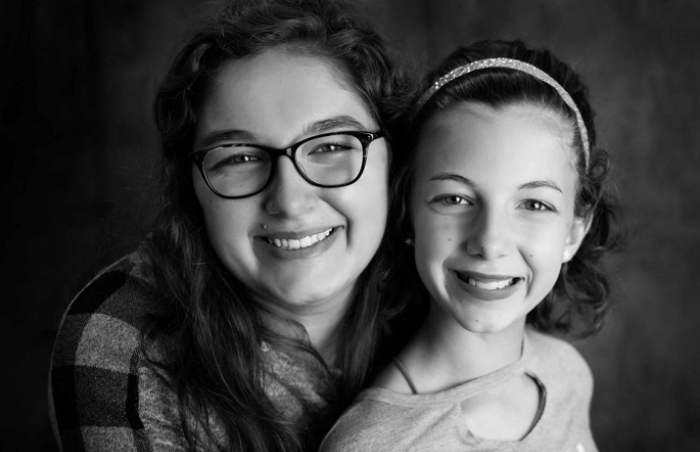 We Became Stronger Together: A Supersib Story
Watching a sibling endure the harmful treatment of cancer is hard enough, but Supersibs must also face the changes to family dynamics and the mental health affects such as depression. In this blog, Paige Rhode shares her own experience when her sister Lulu was diagnosed with cancer. It was an experience that would change their family forever, but also one that she says made them stronger and led her to a new path for her future.
Lulu's Diagnosis
In 2016, my sister LuLu was diagnosed with a rare type of lymphoma. I was helping her shower when I noticed a large bump on her neck. I immediately called my mom, not really thinking too much of it because she was a gymnast and probably just pulled something. After going to our normal pediatrician, she was put on antibiotics and was told to come back in exactly three days. My grandpa, grandma and I all came to the appointment. When the doctor asked my sister and I to step out of the room, I knew something was wrong. After finally getting her diagnosis of Stage 4, T-cell lymphoblastic Lymphoma with bone marrow involvement, our life stopped being soccer games, gymnastic practices and hanging out with friends and consisted of going to the hospital and coming home.
Being a Supersib
It was hard for me to go to school. When I went all I could think about was how much I missed my best friend, and when I stayed at the hospital, I missed school and my friends. My teachers were super about trying to make me feel better, and even on Friday's would get me Jimmy Johns. It was also really hard for me to see my sister getting gifts and care packages every day, I really just felt left out. My parents would switch off sleeping at the hospital, so I never really got to be with everyone which was super-duper hard. Nights with my mom were hard, but mornings with my dad meant that we got to go to Panera for breakfast. But when we got to the hospital, everyone became depressed seeing Lu on oxygen, not being able to walk, and even at times not even knowing who she is or who we are because of ammonia toxicity (I never would have thought that I would know what that is!).
During this time, I began to suffer from both anxiety and depression, giving me little motivation to do anything that made me happy. At first, I told myself that I didn't want to see a psychologist, but in the end, I don't know what I would do without seeing one! She has helped me and the rest of my family through so much.
A Different Outlook
Now that we are a year off treatment, and I am going off to college, my decision on a major has been made very easy for me. One day, I hope to be a pediatric oncology nurse. I can't envision doing anything else. Being the sister of a cancer patient has changed me for the better. I would have never thought that we would be able to make it through in one piece, but because of such close-knit cancer families and the connection that bonds us together we were able to come out stronger.
Want to share your story as a supersib, parent, or patient? Please email Danielle Torgerson at dtorgerson@maccfund.org to share your story and raise awareness for the importance of childhood cancer and related blood disorders research.
Photo credit: Flashes of Hope photo by Christine Plamann