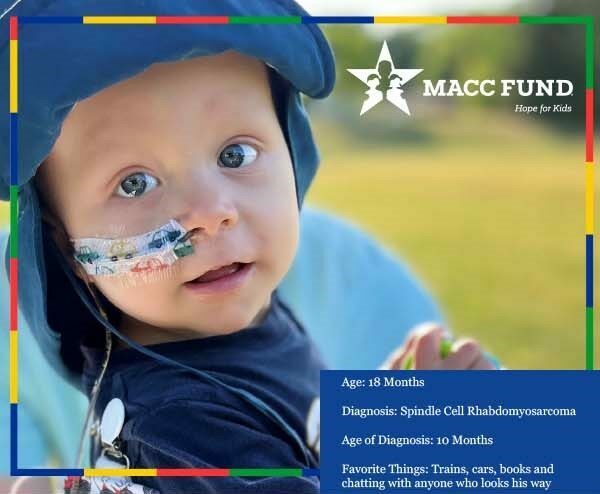 Meet Owen- a bright-eyed little 18-month-old with a BIG personality! He loves to be the center of attention and has a lot to say, always at the top of his voice.
Owen's cancer journey began at his 20-week ultrasound when the doctor found a mass in his abdominal wall. His mom, Krista, underwent a series of scans to monitor its behavior throughout the remainder of her pregnancy. Though it appeared to be benign and stable, the labor and delivery team at Froedtert brought Owen straight to the NICU to be monitored and have further scans and a biopsy within days of being born. His family could finally take a breath when he was diagnosed with a Myofibroma- a benign tumor which could be removed once he was a year old.
As Baby Owen grew, his scans continued to characterize the tumor as stable. However, around the 7-month mark, Owen began growing more and more irritable by the day. He had difficulty sleeping and avoided laying on his stomach. Was this reflux? Teething? Things came to a head once he began experiencing intermittent rapid breathing and very high blood pressure. He was admitted to Children's Wisconsin where they performed another MRI. This time, it showed that the tumor had filled his whole belly in the five weeks since his last scan- pushing on his diaphragm and aorta and rearranging Owen's organs across his abdomen. He was brought into emergency surgery where the team debulked the tumor by 95% to offer him some relief.
One month after his surgery, he began growing irritable again. His family took him back to the hospital where an MRI showed the tumor was growing yet again. Though it was still found to be benign, it was not behaving benign. His team started a cycle of chemotherapy while they awaited a second opinion from a highly specialized lab. He was soon diagnosed with Spindle Cell Rhabdomyosarcoma one week into this first chemo. After his first few cycles, the tumor shrunk enough for his team to safely remove all visible remains of the mass.
Owen's cancer requires a combination of inpatient and outpatient chemotherapy. He just finished cycle 11 out of 14. After this is complete, he will have 6 months of maintenance chemo. Owen is expected to ring the bell in February 2024 after 1.5 years of grueling treatment.
Little Owen is handling treatment like the little rockstar he is. His biggest hurdle has been excessive nausea and weight loss due to the therapy, but the placement of an NG tube has greatly helped to strengthen him. Recovery from two major surgeries, weakness from chemotherapy, and frequently being relegated to a crib at the hospital has impeded Owen's ability to develop his walking skills. He is currently working with a physical therapist to get him up on his feet so he can chase his big brothers and get into all kinds of good toddler trouble.
Along this rollercoaster of a journey, Owen has been supported by two incredibly strong, grounded parents who are both juggling jobs, three young children and the full-time work of caring for their sick child. They want others outside of this experience to know, "Cancer is brutal. It really does affect the whole family."
Krista and Andy are grateful for the incredibly caring nurses, therapists and doctors at Children's Wisconsin who truly take the time to listen to them, answer their questions and continue searching for answers to Owen's rare type of cancer.
They also expressed the need for more research as it relates to cancers like Owen's. Because his condition is not common, there are very few case studies to guide his doctors and no truly targeted therapies developed for his subtype. The lack of data led to his misdiagnosis and delays in his treatment. More research, more data- that is what will give children like Owen a fighting chance.
Owen's parents dream of their little guy living a long life with no memory of this. May he, instead, simply know how strong he and his family were during this time.
And may the groundbreaking research at our facilities continue to provide hope for the families of little fighters like Owen.
Thank you for supporting research. Thank you for giving hope.