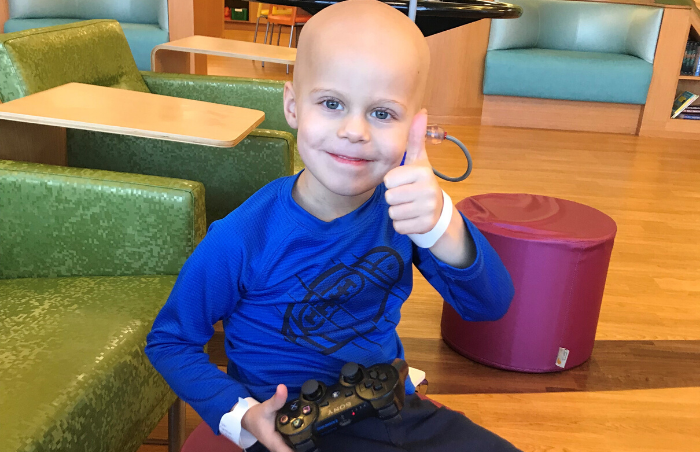 Four Year Old Dylan's Fight with Burkitt's Lymphoma
Initial Diagnosis
Dylan Pogodzinski was a healthy, energetic, sports-loving little boy before his life took a drastic turn. When he was just 4 years old, Dylan was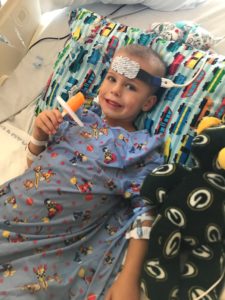 diagnosed with Burkitt's Lymphoma, a rare and fast-growing cancer. After several tests with his pediatrician, Dylan was referred to Children's Wisconsin. His parents, Dean and Jen, had noticed that their son's stomach appeared bloated, but they had no idea how fast the cancer had spread. Doctors found tumors throughout Dylan's body, from his kidney to his neck.
The hardest part, his parents said, was the waiting. "You wait for test results, you wait for the chemotherapy to start working, and you wait for answers." Dylan's mom told us, as she held back tears. "It's really, really hard."
While there were many setbacks along the way, including a stay in the ICU due to kidney issues, the staff at the MACC Fund clinic did their best to make it seem fun for Dylan. He played with games and toys throughout his visit while the nurses distracted him from the unpleasant side effects of his treatment. Dean and Jen say they are grateful he won't remember the worst parts of his time at the hospital. "We just tell him he got really sick, and now he's better," Dean added.
The Fear Remains
After six rounds of chemotherapy, Dylan was pronounced cancer free. Yet there's still plenty of fear and apprehension for his parents. "Every stomachache or cough, your mind goes places, which is different than how it was before. I don't think that will ever go away," Dean reflects. They also worry about the long-term side effects of Dylan's chemotherapy, which remains an unknown factor.
Since Dylan was diagnosed at such a young age, it's hard to know if he truly grasps the enormity of what's he has lived through. His father said, "Dylan knows he had cancer, and he'll say, 'I beat cancer', but I don't know if he understands what that is or how much he'll really remember."
Moving Forward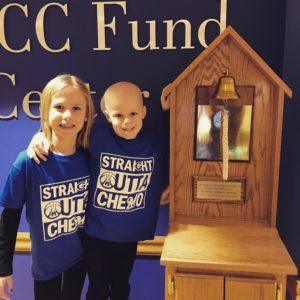 In the case of Burkitt's Lymphoma, if the cancer were to return, it is most likely to happen within the first year after completing treatment. The Pogodzinskis return for regular visits with their doctor to monitor Dylan and his parents are vigilant in watching for any warning signs. After the first year, which is rapidly approaching for the family, the likelihood of a relapse drops dramatically.
The Pogodzinskis are doing their best to return to their regular routine, but both parents admit they cherish the small moments more than they ever did before. Jen even says that she loves hearing Dylan fight with his sister Kinsley because that's something that they couldn't do for a long time. "It's so good to see him being a normal kid", Jen tearfully adds.
Dylan's story was submitted by his mother, Jen Pogodzinski. To share your experience with childhood cancer or a related blood disorder, please email dtorgerson@maccfund.org