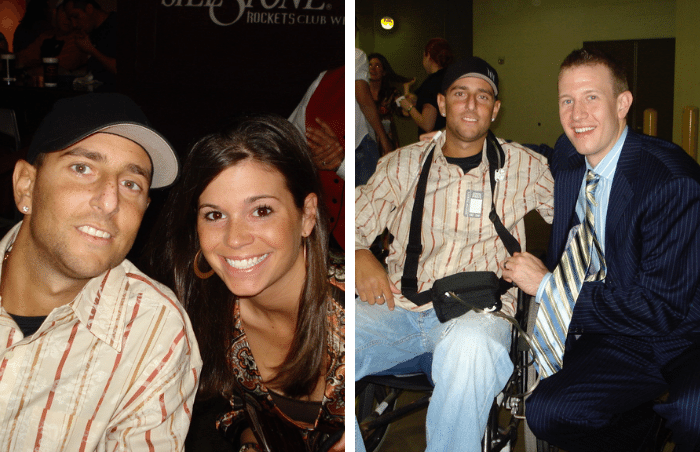 Choosing Your Cause: Christina and Steve Novak Share What Led Them to the MACC Fund
Former NBA player and Milwaukee Bucks analyst Steve Novak and MACC Fund Emerging Leaders Board member Christina Novak share what led them to support the MACC Fund and why you should too.
When They Met
Steve and I met at Marquette, the Final Four in New Orleans to be exact! We have been married for 13 years, have three kids, and currently reside in the Milwaukee area. Prior to coming "home" we lived in 9 different cities while Steve played in the NBA for 11 years. Yes, that is quite a bit of moving. While moving may not be the most desirable activity, we experienced living in cities that we would have otherwise not lived in, met people we would have otherwise not met and were introduced to a plethora of charities that we would have otherwise not known about. With that being said, we realized "home" is Milwaukee and our "charity" is The MACC Fund.
An Inspiring Experience
Steve was drafted to the Houston Rockets in 2006. Shortly after, a family friend contacted us about a young man our age named Jeremy from the Milwaukee area who was going to MD Anderson in Houston for cancer treatment. They mentioned that he was a HUGE basketball fan and wondered if we could meet up for a game. We soon met Jeremy and his wonderful family and motivated us to support the MACC Fund.
Jeremy's Story
Jeremy was diagnosed with Ewing's Sarcoma his senior year of high school. He fought with everything he had for seven years with a positive attitude while living his life to the absolute fullest! He passed away at the age of 25 in 2008. Jeremy is a huge part of why we support the MACC Fund. We attended countless games, dinners, and doctors' appointments with him, we saw the good days and the not so good days. We watched the strength of his parents, siblings, and wife…we also watched them hurt and grieve. We have made it our mission to dedicate our time and money to funding childhood cancer research so that someday…someday soon, God willing, no family will have to go through what this family did ever again.
Making a Difference
I currently co-chair the Emerging Leaders Board with the MACC Fund. The Emerging Leaders Board is comprised of young professionals who are expanding community engagement and awareness of the mission and achievements of the MACC Fund. We have hosted golf outings and networking events to raise awareness and funds for the brilliant doctors at the Medical College of Wisconsin to continue doing what they do best! In the short 44 years of the MACC Fund's existence the childhood cancer survival rate has gone from 20% to 80%! Amazing, right? Pretty amazing if your child is one of those kids in that 80% but what if they are in that 20% like our friend Jeremy?
Choosing Your Cause
I encourage you to make the MACC Fund one of your charities of choice. Kids are the future of this world. As parents, we strive to provide them with the resources they need to grow into strong and successful adults. Join me in continuing to provide doctors with the resources they need to research what these incredible little fighters need to rid their bodies of this ugly disease.