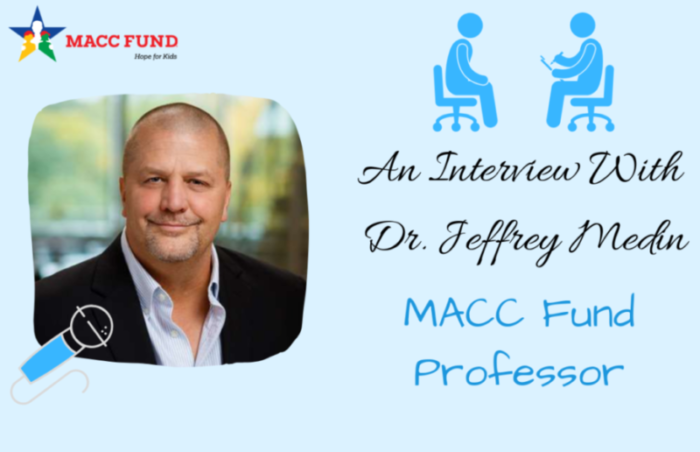 An Interview with Dr. Jeffrey Medin, MACC Fund Professor

A Snapshot
Dr. Jeffrey Medin received his Bachelors of Science from the University of Wisconsin-Parkside, and his PhD from the University of Kentucky's Department of Biochemistry. Dr. Medin has accomplished a number of things since then ¾ from publishing close to 150 peer-reviewed journal articles (25 of which have been published since he was named the MACC Fund Professor at MCW in 2015), to applying for numerous patents, to founding a publically-traded company, to co-registering for over 15 inventions–it does not seem like Dr. Medin is slowing down anytime soon.
Sitting Down with Dr. Medin
I met Dr. Medin in his office on the fourth floor of the Medical College of Wisconsin's Translational & Biomedical Research Center, he ushered me in kindly and we sat down to get started. I could tell immediately that he was somewhat surprised by my request to interview him, despite the fact that he has been fairly successful to date at the Medical College of Wisconsin. It was a good thing I got my hands on his résumé before the interview; while Dr. Medin is many things, boastful is not one of them. Throughout our interview he used phrases like "first of its kind" and "first in the world" when speaking about his research, as if these were just facts (which they are) and not groundbreaking achievements. To clarify, it's not that he isn't proud of what his lab has accomplished so far, he simply has his sights set on even loftier goals. He doesn't strike me as an individual who is content with making one breakthrough ¾ which is clear because if that was the case, he'd have retired many years ago–but instead, as one who takes each breakthrough in stride, considering them important steps toward the goal for a cure. I want to share with you a few of my favorite "sound bites" from the interview:
What are you proud of about your MACC Fund Professorship?
"I think in the time that I've been here I've set up a very active team and we've started making some progress on some topics… I've got a United Nations team put together, I have people in the lab from Mexico, Nigeria, Czech Republic, Italy, India, Tanzania, Canada … it's quite a mixture of people that have joined the lab to work on these projects. I think in the years that we've been here we've published a few papers… but I think more importantly we've put together a structure to be able to build going forward and to really make some impact on these disorders. Because of the MACC Fund, and their unwavering commitment, we are also able to better bridge the gap from positive research results to actual clinical implementation in children."
What message of encouragement would you provide to any kids recently diagnosed and their families supporting them?
"You're not alone on this… the MACC Fund, and Children's Hospital, and MCW, and Blood Research Institute, the whole complex out here sees this as a team and everybody is working together. The MACC Fund provides amazing support for research into your disorder and there is also support all the way from patient care to helping folks manage treatment schemas. What I think is really important is to realize you are not in this alone, there are researchers working on the disease that you have while we speak, there are institutions looking at ways that they can provide better care. It's crucial to know that aspect going in. Patients should know this… there are people working on their disease behind the scenes that may not be very vocal, but I think that should give people some hope."
Why should someone make the MACC Fund their charitable organization of choice?
"The MACC Fund has been around for a long time, the people in the MACC Fund are some of the most dedicated people I have ever met all the way from Jon McGlocklin and the board members on down. I, myself, am a donor to the MACC Fund, not only do we work the Trek 100 as a lab (and other events), but I've re-written my own will to provide money for the MACC Fund in the future, just because I believe in them that much. For me, it's that these are real people, they're not flashy, it's not a flashy group in general, it is people that stay behind the scenes, it is people that are amazingly dedicated to what they do, they support research, they support me, they support this hospital. It is something I believe in as a scientist and as an individual in the community, that this is a fantastic organization and that it just keeps going and they just keep getting better and better."
To donate to the MACC Fund, visit our donation page here.