43rd Annual Bucks MACC Fund Game
Co-founded by Bucks legends Jon McGlocklin and Eddie Doucette in 1976, the MACC Fund has always had a close and lasting relationship with the Milwaukee Bucks. Thursday October 17th, 2019 marked the 43rd year of the Annual Bucks MACC Fund Game, a historic event for many reasons.
Stars Among Us
The Bucks vs. Timberwolves pre-season game kicked off with a special visit from some old friends. The pre-game show included a visit from past TMJ4 MACC*Star designers, the first reunion of the designers. The designers who joined the players on the court were:
Stephanie Proctor, 2001 designer
Brandon Novack, 2005 designer
Maggie Golden, 2006 designer
Michael Christensen, 2007 designer
Montana Weiland, 2008 designer
Noah Polzin, 2009 designer
Maggie Conlon, 2012 designer
Lily Dove, 2014 designer
Chris Reese, 2015 designer
Bailey Dove, 2016 designer
Gia Danninger, 2018 designer
The 2019 Rising Star
That night the 2019 MACC*Star designer was also announced: Harlow Millies of Hartland, Wisconsin. Harlow was diagnosed with Acute Lymphoblastic Leukemia B cell on August 14th, 2017. She is still currently undergoing treatment but is on track to finish in the next year. Harlow was scheduled to deliver the game ball, but unfortunately had to remain in the hospital for observation that night. Thankfully, her younger sister Reese was able to step in and deliver the game ball in her place—an experience she won't soon forget! The 2019 MACC*Star designed by Harlow is available now for purchase, buy yours today here! If you would like to purchase a MACC*Star from any of our past designers, please email Dayle Bugalski at dbuglaski@maccfund.org.
A Gift Given
Throughout the game, there were two additional surprises in store. One of the MACC Fund's top supporters, Trek, presented a check for over $950,000 from their annual Trek 100 while the Wisconsin Basketball Coaches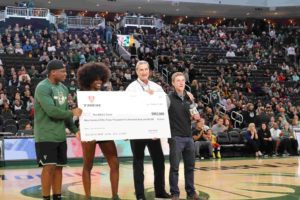 Association presented a check for $150,000 from their annual event, the WBCA All-Star Game. These incredible gifts from two MACC Fund supporters resulted in over $1 million for childhood cancer and related blood disorders research.
Over the last few months, the MACC Fund has made a $25 million commitment to Children's Wisconsin and Medical College of Wisconsin, and a $10 million commitment to UW Carbone Cancer Center and American Family Children's Hospital. It is through events and fundraisers like this that the MACC Fund can continue our ongoing commitments to improving the quality of life and finding cures for children battling devastating diseases. To learn more about ongoing events, please visit https://maccfund.org/events/