Theta Chi's Ski for Cancer backs the MACC Fund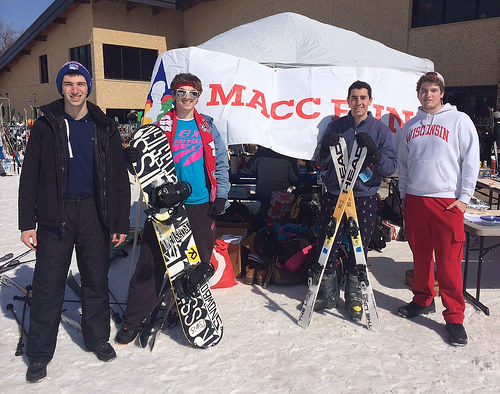 The University of Wisconsin's Theta Chi's fraternity Psi Chapter created "Ski for Cancer" over four decades ago. The event was on hiatus for a number of years before its revival in 2010. The MACC Fund is grateful to the current brothers of Theta Chi for continuing to help the children as their predessors did for many years. The 2016 edition is on Saturday, March 5 at Cascade Mountain. This year the students have a full week of activities going to extend Ski for Cancer to raise even more awareness for the fight against childhood cancer as well as lifesaving funds.
The MACC Fund thanks all of the members of Theta Chi, past and present, for their great support.  Special thanks goes to Callen Reveret, who is heading the fraternity's efforts this year, and to Jon Graan and Tom Farin, who continue to be great and gernerous alumni reps. The students and alumni raised $24,000 for the MACC Fund in 2015 bringing the revived Theta Chi "Ski for Cancer" total to $175,000 and the overall contributions to $425,000.
Visit http://skiforcancerweek.com/ for all of the information.

Contact Information
John Cary
Executive Director
MACC Fund (Midwest Athletes Against Childhood Cancer, Inc.)
10000 W. Innovation Dr., Suite 135
Milwaukee, WI 53226