Aaron Rodgers keeps backing the MACC Fund
ABC TV's new "BIG FAN" is Aaron's latest effort to help the MACC Fund
Green Bay Packers Quarterback Aaron Rodgers started supporting the MACC Fund in 2010. Since then, Aaron has helped raise over $2.5 million for the MACC Fund's fight against childhood cancer and blood disorders research. His "MVP" status in the eyes of the children whose battles against cancer and blood disorders whom he supports extends far beyond the lines of the football field.
In addition to raising funds, Aaron's commitment to the children through the MACC Fund has helped raise awareness of the MACC Fund and the need for funding research. He has used appearances on national stages to help the MACC Fund raising important funds and awareness. For example he helped the MACC Fund in both ways when he won $50,000 for the MACC Fund on "Celebrity Jeopardy" in May of 2015. Earlier that year he also designated the NFL "Man of the Year" finalist charitable contribution to the MACC Fund.
His most recent effort to raise awareness of the MACC Fund involves appearing on a new ABC Show entitled "BIG FAN." Aaron will speak about the MACC Fund as the charity he is supporting during the show. Each episode will feature a celebrity and three of their super fans who battle it out to prove they are the ultimate Rodgers fan.
The MACC Fund, Midwest Athletes Against Childhood Cancer, Inc. has contributed over $56 million to pediatric cancer and blood disorders research for diseases like aplastic anemia and sickle cell disease since its inception in 1976. Celebrating its 40th year, the MACC Fund has played an important role in helping the overall cure rate for childhood cancer to rise from 20% to 80% during this time. MACC Fund supported research conducted in the MACC Fund Research Center of the Medical College of Wisconsin, in the at MACC Fund Center at Children's Hospital of Wisconsin and in the MACC Fund Childhood Cancer Research Wing at the University of Wisconsin's Carbone Cancer Center impacts the treatment of children throughout the state, the nation and the world. The MACC Fund is committed to give every child a fighting chance to provide "Hope for Kids."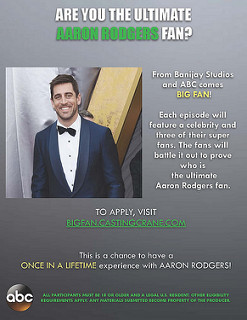 Contact: MACC Fund – John Cary, 414-955-5833 / Cell 414-839-3061, jcary@maccfund.org
Banijay Studio North America – Kelly Kimball, k2PR |310-701-7773,  k2@kkimballpr.com
Contact Information
John Cary
Executive Director
MACC Fund (Midwest Athletes Against Childhood Cancer, Inc.)
10000 W. Innovation Dr., Suite 135
Milwaukee , WI 53226