Donald Driver to Host Driven to Achieve Awards Kick-Off Press Conference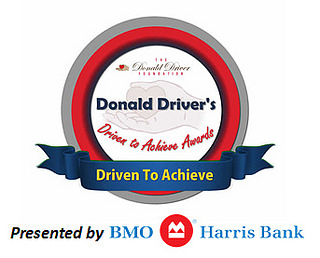 Green Bay Packers' All-Time Leading Receiver, "Dancing with the Stars" Champion, New York Times Bestselling Author and 2013 AMVETS Humanitarian of the Year Donald Driver will host a press conference Friday, March 20 in advance the second annual Driven to Achieve Awards presented by BMO Harris Bank.
At the press conference, which begins at 2:00pm at Next Door (2545 N 29th St, Milwaukee, WI 53210), Driver will discuss the Driven to Achieve Awards program and this year's class of award winners whose charities will be granted a total of $220,000 at the event.  Included in this year's Driven to Achieve Awards class are four Wisconsinites: John Cary, Midwest Athletes Against Childhood Cancer (MACC FUND); Patty Flowers, American Red Cross; Dr. Carol Keintz, Next Door; and Vincent Lyles, Boys & Girls Clubs of Greater Milwaukee. Additional Award winners include Emmy Award-winning television personality Sherri Shepherd and award-winning actor and executive producer of ABC's "Black-ish," Anthony Anderson. Shepherd and Anderson are being honored for their work with the Parkside School and United Negro College Fund, respectively.
Cary, Flowers, Keintz and Lyles will be in attendance at the press conference and will be available for interviews after statements by Driver and BMO Harris Bank Executive Vice President Brad Chapin. Chapin and Driver will also be available for interviews.
Additional visuals at the press conference will include oversized checks totaling $220,000 made out to the winners' charities and the Driven to Achieve Awards, custom statues made by the same company that produces the Oscar Awards, that will be given to each winner at the Driven to Achieve event.
The Driven to Achieve Awards event, set for March 21 at the Pfister Hotel, will be co-hosted by Driver and Shepherd. Additional celebrity guests attending the event include Anthony Anderson and Miss America 2015 Kira Kazantsev; "American Idol" winner Kris Allen and country music Songwriter of the Year Phil Vassar will also be on hand to perform at the sold out event.
The Driven to Achieve Awards event will be closed to the media; however, a post event press release with photos and an event recap will be distributed.
 About the Driven to Achieve Awards presented by BMO Harris Bank
Created by Donald Driver to recognize and celebrate the accomplishments of multiple charities, companies, community leaders and celebrities on a national and local level, Donald Driver's Driven to Achieve Awards presented by BMO Harris Bank will have granted over $425,000 to various deserving charitable causes in just two years.
In addition to BMO Harris Bank, other community leaders supporting the program include MillerCoors and Jockey. For more information on Donald Driver's Driven to Achieve Awards, please visit http://www.donalddriverfoundation.com/driven-to-achieve/.
 About the Donald Driver Foundation
Founded in 2001 by Donald and Betina Driver, the Donald Driver Foundation serves as a hand up, not a hand out, for underprivileged children and families. With core focuses in education, homelessness, career development and health & wellness, the work of the Donald Driver Foundation touches thousands of lives each year. For more information, visit http://www.donalddriverfoundation.com/.
Contact Information
Brian Lammi
Founder and CEO
Lammi Sports Management
161 S. 1st St.
Milwaukee, WI 53204