Donald Driver Announces 2015 Driven To Achieve Award Recipients, Including John Cary, Vincent Lyles, Patty Flowers and Dr. Carol Keintz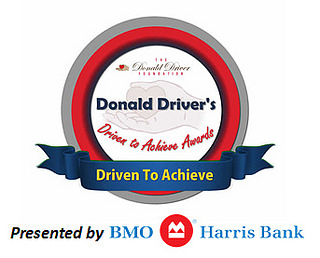 MILWAUKEE, WI – MACC Fund Executive Director John Cary, American Red Cross CEO – Wisconsin Patty Flowers, Next Door Executive Director Dr. Carol Keintz and Boys & Girls Clubs of Greater Milwaukee President and CEO Vincent Lyles were amongst the Driven To Achieve Award recipients announced today by Green Bay Packers All-Time Leading Receiver, "Dancing with the Stars" Champion, and New York Times bestselling author Donald Driver. Driver also announced he will recognize two celebrities who have used their platform to give back and influence positive changes in the community: Emmy Award-winning actress Sherri Shepherd; and award-winning actor and Executive Producer of ABC's hit show "Blackish," Anthony Anderson.
Driver will honor the winners at the 2015 Driven To Achieve Awards presented by BMO Harris Bank Saturday, March 21st at the Pfister Hotel in Milwaukee, WI. At the event, which will be co-hosted by Driver and Shepherd, the winners will be presented with a significant monetary contribution to help support their cause. Last year, Driver donated over $200,000 to his inaugural class of winners.
"We are blessed to have these people working hard every day to make this world a better place," Driver said of the 2015 class. "Whether they are keeping our kids safe and helping them succeed in school, improving pediatric cancer cure rates, or assisting the community in times of great need, this class of winners is all about putting others first. That is something truly special, and it's time we recognize them."
Driver also announced that 2015 Miss America winner Kira Kazantsev will be in attendance at the Awards and will help recognize the winners. Driver recently served as an official judge for the 2015 Miss America Pageant.
Donald Driver's Driven To Achieve Awards presented by BMO Harris Bank was created to recognize and celebrate the accomplishments of multiple charities, companies, community leaders and celebrities on a national and local level.
In addition to BMO Harris Bank, other corporate community leaders supporting the event include MillerCoors and Jockey.
Community leaders and interested parties can participate in this event via the following  sponsorship levels.  Tables of 10 will be filled in on a first-paid, first-position order within the category of support donated.
Benefactor Table Partnership – Table for 10 people — $5,000
Loving Hearts Partnership – Table for 10, preferred seating, Donald Driver autographed gift for table captain and guest — $10,000
Community Influencer Partner – Includes 2 VIP tickets to exclusive meet and greet with Donald Driver and other celebrity guests, VIP seating, additional benefits — $15,000
Interested organizations can contact Pat Mueller of P.M. Mueller & Associates at 262.796.1005 or at patmueller@att.net.
About the Donald Driver Foundation
Founded in 2001 by Donald and Betina Driver, the Donald Driver Foundation serves as a hand up, not a hand out, for underprivileged children and families. With core focuses in education, homelessness, career development and health & wellness, the work of the Donald Driver Foundation touches thousands of lives each year. For more information, visit http://www.donalddriverfoundation.com/.
Contact Information
Brian Lammi
Founder and CEO
Lammi Sports Management
161 S. 1st St.
Milwaukee, WI 53204