Twenty-Eight Years of Holiday Lights Provide Hope on Candy Cane Lane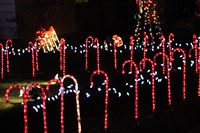 The 28th year of making a difference in the life of a child with cancer opens Friday, November 29th! Take a trip down Candy Cane Lane in West Allis and share the true spirit of the season. Remember to drive with your lights on!!
The West Allis neighborhood bounded by Oklahoma and Montana Avenues and 92nd to 96th Street is transformed into a winter wonderland in December to benefit the MACC Fund.
For the 28th year, neighbors will join together to show the spirit of the holiday season during "Sharing Christmas." The holiday lights will be aglow from November 29th to December 27th–Mondays through Fridays from 6:00 p.m. to 9:00 p.m., and on Saturdays and Sundays from 5:00 p.m. to 10:00 p.m.
The event is free, but visitors may donate at the official collection site at the corner of 95th and Manitoba. These donations translate into a perpetual gift of hope and life for children with cancer.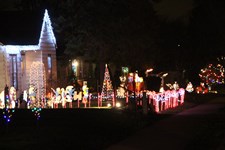 Partial List of Candy Cane Lane Events
November 29 – North Shore Bank Night (6:00 to 10:00 p.m.)
December 1 – Meet Meg from 95.7 WRIT from 5:00 to 6:30 p.m. along with West Allis Mayor Dan Devine
December 2 – Catch the team from ComedySportz from 7:30-9:00 p.m. and Today's TMJ4 Brian Gotter from 6:00 p.m. to 7:00 p.m.
December 4 – Milwaukee Wave Players collect donations from 7:30 to 9:00 p.m.
December 6 – Salute our service men and women on Military Night. (6:00 to 9:00 p.m.)
December 7 – Old Wisconsin Sausage/Majdecki's Sentry Night (5:00 to 10:00 p.m.)
December 10 – The Diamond Dancers – the Professional Dance Team of Milwaukee's Major League Baseball Team are out from 6:00 to 9:00 p.m.
December 13 – Say "Thank You!" to your Wisconsin Vietnam Veterans. (6:00 to10:00 p.m.)
December 13 – The Annual Mascot Night with mascots from your favorite teams and businesses ( 7:00 to 9:00 p.m.)
December 14 – Meet your Milwaukee Buck's Dance Teams, Rim Rockers and Hoop Troop from 5:00 to 10:00 p.m.
December 18 – Say "Hello" to the hilarious John McGivern. He's sure to make you smile from 6:00 to 7:30 p.m.
December 21 – Meet West Allis' fire fighters and bring the kids to see their fire engines, ladder company engines, and paramedic units. Great, safe fun for the whole family from 5:00 to 10:00 p.m.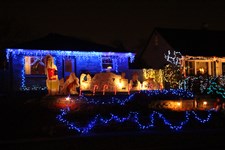 Santa Claus will make an appearance every night from December 6th to December 23rd.
Throughout the month a variety of other entertainment is also offered. Visit www.candycanelanewi.com for a complete calendar of events and make sure to 'like' Candy Cane Lane on Facebook and follow us on Twitter (@CandyCaneLaneWI) for up to the minute information.
Join us in this wonderful celebration of the holiday season by visiting Candy Cane Lane and helping kids with cancer!
Colleen O'Neil Moran
Development Officer
MACC Fund, Inc.
10000 W. Innovation Drive, Suite 135
Milwaukee, Wisconsin 53226
414.955.5830
Fax: 414.955.6170