Give the Joy of Colectivo Java!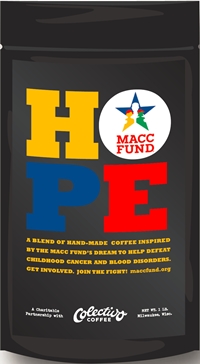 Warm your soul and share the feeling with your loved ones this holiday season.
Colectivo Coffee has created a special blend of their limited HOPE blend coffee made exclusively for the MACC Fund – Midwest Athletes Against Childhood Cancer. Available only from November 29 – December 13. All proceeds benefit childhood cancer and related blood disorders research.
Order yours today!
Colleen O'Neil Moran
Development Officer
MACC Fund, Inc.
10000 W. Innovation Drive, Suite 135
Milwaukee, Wisconsin 53226
414.955.5830
Fax: 414.955.6170