Aaron Rodgers and Gruber Law Offices Team Up for itsaaron.com!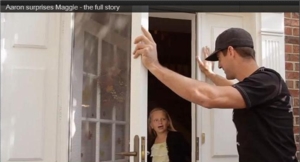 Imagine that the doorbell rings and when you open the door, it's Aaron. The Packers Aaron Rodgers! That was the surprise that three children whose lives have been touched by cancer and sickle cell disease experienced on a fall Tuesday, the Packers day off.
Maggie, Dijon, and Brandon couldn't believe their eyes when they answered the door and their favorite quarterback was there. They each spent special time with the League's MVP who was much more Aaron the MACC Fund supporter than Aaron the quarterback.
It was hard to tell who enjoyed the visits more, Aaron or the kids. But the hugs and smiles of each showed that it was a very special day indeed.
Aaron's visits were part of a series of episodes for Gruber Law Offices dedicated to helping raise awareness and funds for the MACC Fund.
They began airing in mid-November and are part of itsAaron.com, a microsite developed and designed by CI Design, dedicated to Aaron's commitment to the MACC Fund and kids like Maggie, Dijon and Brandon.
A very special thanks to David and Nancy Gruber and to Gruber Law Offices for their generous commitment to the MACC Fund. Another very special thank you to Aaron Rodgers for continuing his winning ways to help the children and the MACC Fund.
Check out itsaaron.com!
Brandon's Parents Talk with David Gruber
John Cary
Executive Director
MACC Fund, Inc.
10000 W. Innovation Drive, Suite 135
Milwaukee, Wisconsin 53226
414.955.5830
Fax: 414.955.6170