TODAY'S TMJ4 Sports Auction 4 MACC – Details and Items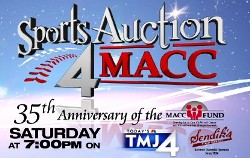 TODAY'S TMJ4 has been an incredible friend of the MACC Fund for 31 years by dedicating live programming to help tell the MACC Fund story. This support is unprecedented in the Milwaukee television market and is undoubtedly one of the nation's longest standing philanthropic efforts in the broadcast industry.
This year TODAY'S TMJ4 is taking the MACC Fund "Prime Time" with its TODAY'S TMJ4 Sports Auction 4 MACC on Saturday, Dec. 10 from 7 – 9 p.m.  An exciting array of 25 items will offer something for every sports fan. Plus, you will see TODAY'S TMJ4's poignant Stories of Hope about children who benefit from TODAY TMJ4's support through this event.
This year's auction will be extra special because the MACC Fund turns 35 on December 10th!  You can be sure there will be a cake and you can get a slice of the action by bidding early and bidding often.
 TODAY'S TMJ4 News Anchors Mike Jacobs and Carole Meekins will host the prime-time, live show with Lance Allan of the TODAY'S TMJ4 Sports Team adding great insights into the myriad of sports related items.  John Malan from Storm Team 4 will serve as the colorful MACC*tioneer helping add to the bidding excitement.
The auction will feature items (listed below) from the Bucks, Brewers, Packers, Admirals, Marquette, University of Wisconsin, and the Wave. Signature items from sports personalities include: Aaron Rodgers, Robin Yount, Donald Driver, Ryan Braun, Charles Woodson, and more.
We are indebted to our auction board sponsors: Trek Bicycle Company, West Bend Insurance – "The Silver Lining," the Balistreri Sendik's Food Markets, the Medical College of Wisconsin, and Sargento Foods. This year marks the 30th consecutive year of Sargento's support through the TODAY'S TMJ4 broadcasts benefiting the MACC Fund.
Our clock sponsors include: Pepsi, the Milwaukee Bucks, Chili's, J.K. Lee Black Belt Academies, and Aaron Rodgers.
Tune in for TODAY'S TMJ4 Sports Auction 4 MACC and the MACC Fund's 35th Birthday Celebration on Saturday, Dec. 10 at 7 p.m.
TODAY'S TMJ 4 2011 Sports Auction 4 MACC
RED BOARD – Sponsored by Balistreri Sendik's Food Marketswith Pepsi as the 2:00 Minute Clock Sponsor
Aaron Rodgers framed authentic jersey
Mickey Mantle, Joe DiMaggio and Ted Williams signed picture
Authentic Riddell Super Bowl 45 Packers helmet signed by 18 players
Official Wilson 1971 Bucks championship ball
Ryan Braun / Aaron Rodgers "Faces of the Franchise" picture
GOLD BOARD – Sponsored by Sargento with the Bucks as the 2:00 Minute Clock Sponsor
Aaron Rodgers and Mickey Mouse canvas signed by Aaron Rodgers
500 Home Run Hitters ball signed by legendary players
Masters Tournament Package for Wed. Par 3 tourney and $400 Frontier Airlines gift card
Packers Crunch Time including four (4) tickets to the January 1, 2012 game at Lambeau and a chance for one (1) person to field a punt for prizes before the game
Warren Spahn, Eddie Matthews and Hank Aaron signed picture
BLUE BOARD – Sponsored by West Bend with Chili's as the 2:00 Minute Clock Sponsor
Donald Driver signed replica Riddell Packers helmet and signed "Quickie" books
Ryan Braun signed canvas
Clay Matthews and Aaron Rodgers signed Super Bowl canvas
Kings of Baseball singed by Hank Aaron, Pete Rose, Nolan Ryan and Rickie Henderson
Samsung 50 inch TV and Brewers ticket and batting practice package
PURPLE BOARD – Sponsored by Trek Bicycle Corporation with J.K. Lee Black Belt Academy as the 2:00 Minute Clock Sponsor 
Trek 7.1 FX bike
Aaron Rodgers' TMJ4 promotion shoot signed replica jersey and ball
Admirals Bradley Center Suite for twelve (12) and Zamboni ride for one (1) person
Bench passes for two (2) people for UW basketball game vs Indiana and Bo Ryan signed ball
Charles Woodson ball and Packers fan basket plus a Tomaso's pizza package (pizza a month for a year).
GREEN BOARD – Sponsored by The Medical College of Wisconsin with Aaron Rodgers as the 2:00 Minute Clock Sponsor
Clay Matthews official Wilson The Duke autographed football
Robin Yount autographed 3000th Hit lithograph
Marquette University basketball package with four (4) Big East tickets and a signed ball
Greg Jennings autographed picture and Sports Illustrated cover plaque
Milwaukee Wave VIP package including lunch for four (4) with Keith Tozer
John Cary
Executive Director
MACC Fund, Inc.
10000 W. Innovation Drive, Suite 135
Milwaukee, Wisconsin 53226
414.456.5830
Fax: 414.456.6170