Balistreri Sendik's Markets Back MACC for another year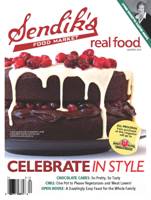 The Balistreri owned and operated Sendik's Food Markets – in Elm Grove, Franklin, Germantown, Grafton, Greenfield, Mequon, New Berlin, Wauwatosa, Whitefish Bay, and now in West Bend – continue their support of the MACC Fund.
The stores will be featuring the MACC Fund in their Winter Sendik's Food Market Real Food magazine. The impressive edition is brimming with all kinds of ideas for the upcoming holidays. It sells for $1.99 with all proceeds to the MACC Fund.
In addition, throughout the holiday season, the Balistreri Sendik's Markets will offer special merchandise to benefit the MACC Fund. You can help kids with cancer by purchasing $1 candy cane to support "Candy Cane Lane" in West Allis. You can also pick up your 24th edition TODAY'S TMJ4 MACC*Star designed by 10-year-old Jack Bartosz for $10 (sales tax included) at Sendik's.
The Balistreri owned and operated Sendik's Markets have distinguished themselves as leaders in grocery and fine food retailing since 1926. With 10 great locations in the Milwaukee metro area and now in West Bend, they've been able to reach out and provide significant help the MACC Fund and kids with cancer and blood disorders.
Since 2008, the Balistreri Sendik's Markets have donated $205,000 to the MACC Fund and are a major sponsor of the TODAY's TMJ4 Sports Auction 4 MACC. Support Balistreri Sendik's support MACC by tuning in to the Sports Auction 4 MACC on Saturday, December 10th from 7 – 9 pm.
The MACC Fund is grateful to be part of the Balistreri family, their great stores and an wonderful team of associates!
John Cary
Executive Director
MACC Fund, Inc.
10000 W. Innovation Drive, Suite 135
Milwaukee, Wisconsin 53226
414.456.5830
Fax: 414.456.6170