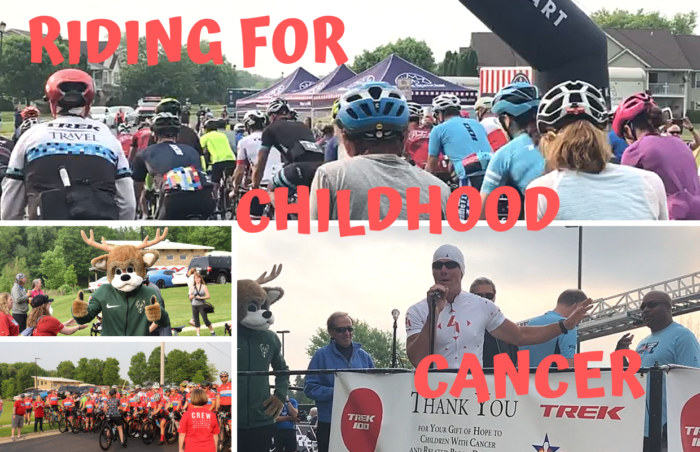 Trek 100: Riding for Childhood Cancer 2019
Riding for Hope
Picture the scene: (mostly) sunny skies, beautiful country roads, and thousands of riders gathered together for the same cause. The Trek 100 Ride for Hope is a long-standing tradition and our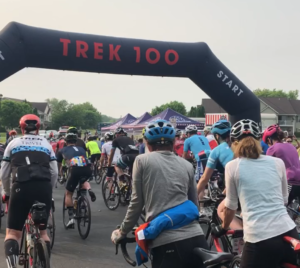 largest fundraiser supporting childhood cancer and related blood disorders research. The event has been held annually in June since 1990, contributing over $15.3 million dollars to the MACC Fund's mission since the event's inception.
The Trek 100 has rides for everyone, from young children to hardcore cyclists; offering four ride distances of 17, 34, 66, and 100 miles over the gently rolling terrain in Jefferson, Columbia and Dodge Counties. The Trek 100 provides plenty of food and drinks to the riders, plus continuous food at rest stops and an after party once the race is complete. The entire day is a celebration of teamwork, coming together to conquer the course and support research for childhood cancer and related blood disorders.
On the Pavement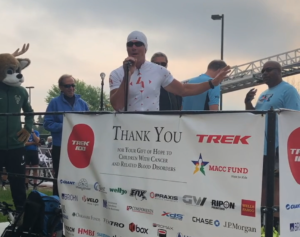 2,415 riders gathered together on Saturday June 1st to ride the picturesque roads around Waterloo, WI. Beginning and ending at Trek Bicycle's Corporate Headquarters, the riders prepared for the day with a hearty and healthy breakfast. The ride has long been advertised as being for everyone, young or old, and it's true—the oldest rider was 92-years old! The riders received an inspirational send off from Hall of Fame Packers quarterback, Brett Favre, as well as the MACC Fund's co-founders Jon McGlocklin and Eddie Doucette.
Although the day brought some rain, the riders never gave in, determined to finish the course for themselves and the children they're supporting. The last of the riders trickled in around 4:00PM, nearly seven hours after their initial send off. Volunteers, family, friends, and fans cheered on the riders as they made their triumphant return, ready to relax and enjoy the after-party. All in all, the day was a great success, and fun for everyone involved!
"The Trek 100 is such a powerful day," said MACC Fund's Development Officer and Trek 100 Ride Director, Colleen Moran. "It is humbling to see it all come together and to watch everyone working so hard to ensure its success. From volunteers who are unloading trucks at 4 a.m., to our littlest riders struggling to climb hills, to our SAG drivers and mechanics who are still assisting riders at the end of a long day. Everyone is working toward one goal: to help children with cancer and related blood disorders. It's awesome to play a small part of something so big."
A Huge Contribution
Childhood cancer is the leading disease-related cause of death in children. With partners like John Burke, owner of Trek Bicycle Corporation, our mission is to fund research for childhood cancer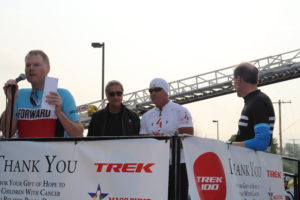 and related blood disorders. We would like to thank all the volunteers who made an appearance for no other reason than wanting to help, and the families, friends, and fans who showed their support throughout the race. Over 2,400 riders signed up for Trek 100, and we want to say a special thanks to them for achieving their donation goals, all of which benefits the MACC Fund.
In the end, the Trek 100 raised over $850,000 for the MACC Fund! If you haven't yet ridden before, please join us at the Trek 100 Ride for Hope in June 2020. It's a great day for a great cause!
To learn more about similar events, visit https://maccfund.org/events/