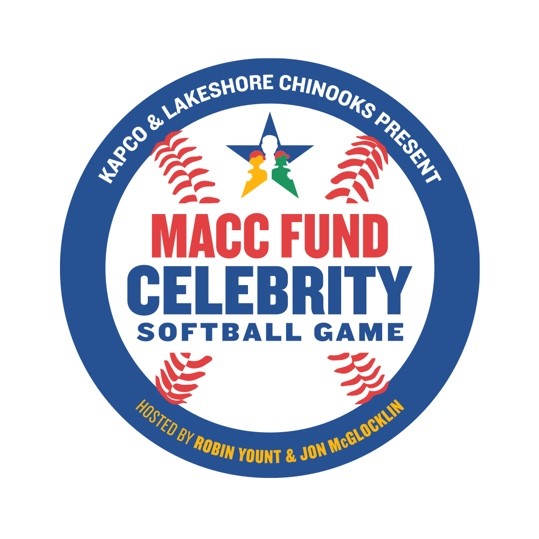 Robin Yount and Jon McGlocklin Team Up for MACC Fund Celebrity Softball Game
Media Contact:
Zach Eisendrath, Vice President of Business Development, Kapco
414-573-4902 | eisendrath@kapcoinc.com
FOR IMMEDIATE RELEASE
Date: Saturday, August 10, 2019
Location: Kapco Park, Concordia University in Mequon, Wisconsin
Schedule of Events:
11 a.m. — Stadium Gates Open for All
Noon — Home Run Derby
1 p.m. — Game
MILWAUKEE (June 13, 2019) – Robin Yount, Milwaukee Brewers Legend, and Jon McGlocklin, Milwaukee Bucks Legend, are taking to the diamond to coach a friendly game of softball for a special cause. The inaugural MACC Fund (Midwest Athletes Against Childhood Cancer) Celebrity Softball game will take place on Saturday, August 10 at Kapco Park on the campus of Concordia University. The fundraising event, which is sponsored by Kapco and the Lakeshore Chinooks, will feature professional sports stars, entertainers and local celebrities.
Event proceeds will benefit the MACC Fund, which McGlocklin helped start and is dedicated to funding childhood cancer and related blood disorder research. The MACC Fund has contributed over $65 million dollars to childhood cancer and related blood disorders research which has had a significant impact. They have helped increase the five-year survival rate for all types of childhood cancer rates from 20% when the MACC Fund began to 80% today.
"The MACC Fund is thrilled to team up with Kapco and the Lakeshore Chinooks for this very special event," McGlocklin said. "We are excited to welcome everyone to Kapco Park for a great ballgame featuring celebrities from across sports and entertainment. We look forward to a fun-filled day of activities as we continue to raise money for the fight against childhood cancer and related blood disorders."
Tickets go on sale June 13 and may be purchased online at LakeshoreChinooks.com or by calling the Chinooks' ticket office at 262-618-4659.
For game sponsorship information or media requests, contact Zach Eisendrath at 414-573-4902 or eisendrath@kapcoinc.com.
About The MACC Fund
The Midwest Athletes Against Childhood Cancer, Inc. (MACC Fund) is a 501(c)(3) founded in 1976 dedicated to the funding childhood cancer and related blood disorder research. For more information about the MACC Fund, visit www.maccfund.org.
About Kapco
Kapco, Inc. manufactures metal components with our highly skilled team and state-of-the-art technology for customers needing stamping, fabrication, and welding work. Based in Grafton, Wisconsin and founded in 1972, Kapco is trusted by leading brands in diverse industries across the country.
About Lakeshore Chinooks
The Lakeshore Chinooks are a member of the finest developmental league for elite college baseball players, the Northwoods League. Entering its 25th anniversary season, the Northwoods League is the largest organized baseball league in the world with 20 teams, drawing significantly more fans, in a friendly ballpark experience, than any league of its kind.