The Man with a Plan: Mike Bielawski
Well-known around the golf community and the Milwaukee area as an avid golfer and later as an assistant golf coach for Marquette University, Mike Bielawski is not someone that you can easily forget. With his laid-back manner and infectious laugh, he's someone that is almost impossible not to like. Mike's inherent charm is likely why he has been so successful throughout his life, now aiding in his role as the Development Officer at the MACC Fund. But there's much more going on behind the scenes that many people don't see: the devoted father, the well-organized event planner, the loyal friend. To shed a little light on the many facets of Mike's life, we decided to conduct an in-depth interview to share some things that you may not know about this amazing and giving individual.
From Advertising Graduate to Golf Aficionado
It's probably no surprise that Mike has long been a golf lover, a sport he's still devoted to today. While attending Marquette University, he played for the college team and eventually graduated with a degree in advertising and communication. Following that, Mike turned pro for the next three years, playing mini tour golf before moving on to become the assistant golf coach at Marquette University. How does this fit into his current role as the MACC Fund's Development Officer? "If I look back throughout my career, everything has been dealing with people. I think getting into fundraising was just a natural fit," Mike said in the interview. "Good fundraisers are able to make a connection with people, to be the conduit between people who believe in something and to the cause they support."
Hard Work is its Own Reward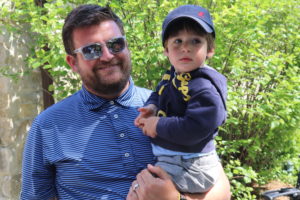 You'll often hear from those who choose to do non-profit work, whether it's as a volunteer, donor, or employee, that they are motivated by the need to make a difference. Mike is much the same, driven by the kids that we support, those who are fighting childhood cancer and related blood disorders. "I truly believe that, perhaps in my lifetime, we'll see cure rates near 100%," Mike stated, which is precisely our mission: to support research that will lead to these cures. Another deeply motivating aspect in Mike's life is his almost two-year-old son, Noah. Being a father adds a different dimension to the cause, seeing it from a parent's eyes. "I cannot imagine what these kids and these parents go through, and whole-heartedly believe that the money we raise is going to be able to help people."
Looking to the Future
In his three years at the MACC Fund, Mike has had a positive impact on the money that we raise throughout the year. He began working at the organization just before the MACC Fund's 40th anniversary celebration and was struck by the support and love that the organization received. In a single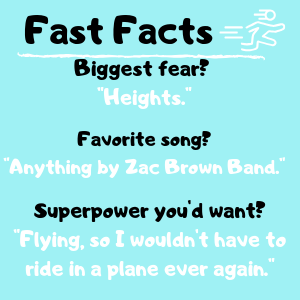 night, almost one million dollars were raised for childhood cancer and related blood disorders research. He also played a major role in one of our most successful events, the Ringer, building the event from the ground up, along with ELB member Mike Hammes and Board of Directors member TJ Marini.
(You can learn more about the Ringer, here.)
Moving forward, he looks toward even bigger opportunities at the MACC Fund. With a growing need for research funding (support research here), the MACC Fund team is continually establishing new events to support research projects at Children's Hospital of Wisconsin, Medical College of Wisconsin, UW Carbone Cancer Center, and the Marshfield Clinic.  Mike remains unwaveringly optimistic about the continued growth of the MACC Fund's fundraising endeavors. The need for new therapies for childhood cancers and related blood disorders is huge and requires a lot of support to meet some lofty goals we've set.  "The more dollars we raise, the faster we will find a cure for childhood cancer and blood disorders.  The next decade will be an exciting time for the MACC Fund and places we support as we try to increase fundraising and accelerate the discoveries of some of the brightest minds in the country."
Wrapping Up
In life, it's not always easy to say, "I don't want to be doing anything other than this", but in Mike's case it's certainly true. Given the choice of anything in the world, with money being no object, Mike asserts that he would still want to be doing exactly this, working to support childhood cancer and related blood disorders research. "And play a lot of golf," he added with a laugh.
To learn more about what makes the MACC Fund's supporters different in Mike's own words, see the video below.