Fueling For Childhood Cancer
Update: A Second Location
The Kruepke family continues to support childhood cancer and related blood disorders research. They unveiled their second spirit pump location this week as part of the ongoing Fueling for Childhood Cancer campaign. Now you can fuel up at the West Side Mart in Hartford and support the MACC Fund with every fuel up. More locations to come!
A Promising Beginning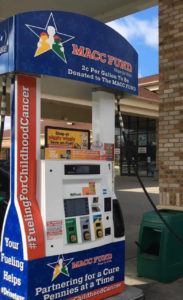 BP and Amoco have teamed up with the MACC Fund to launch an all-new fundraiser as part of our #Driveto35 campaign, to achieve our goal of raising $35 million dollars. This campaign is made even more special because it kicks off the 30-year anniversary of the BP and MACC Fund partnership. Across Wisconsin, BP and Amoco will offer a spirit pump fundraising opportunity to their locations. Participating stations will have a designated pump with MACC Fund design work created by our partners at Elevate 97 in Green Bay, WI. Each pump will dedicate a certain cents per gallon, which will be donated to support childhood cancer and related blood disorders research.
Joe Fay, one of the main promoters of the program at BP, had this to say about the new campaign, "I started working with the MACC Fund several years ago through a local trap shooting event, then I had the opportunity to jump on the planning committee for the BP-MACC Golf Outing a few years back.  As the golf outing finished up last year, we sat and discussed how to make a larger impact. We came up with the idea of the spirit pump. As cancer is such a terrible disease, it is beyond heartbreaking when it affects an innocent child. I hope that this program will continue to grow, lessening the burden on the families affected by these diseases."
The First Location & the Kruepke Family
The first participating location is already up and open for business! The spirit pump was unveiled at the East Side Mart BP in Jackson, WI and is owned by the Kruepke Family.
John and Marian Kruepke, with their sons Bill and Kurt, opened their first c-store on March 1, 1985. The Village Mart (Amoco) is located in Jackson, WI. They worked their store from 6:00 am to 10:00 pm, seven days a week, until November when they hired their first employee. Over the next 25 years, the business grew to include five locations, four of which are BP locations.
Today, John and Marian are still active in the business along with their son Kurt and daughter-in-law Annette. Two of their grandchildren, Rachel and Matthew, are at the University of WI- Madison. Both help in the business as time allows.
A Strong Partner
When the opportunity presented itself to participate in the MACC Fund program, the Kruepke's did not hesitate to say "Yes". Two of their BP locations will have the MACC Fund dispensers, one in Jackson and one in Hartford. They have agreed to donate $0.02 per gallon to our mission over the next three years! The Hartford spirit pump is not yet open.
We are extremely grateful for their support in the fight against childhood cancer and related blood disorders, and hope that everyone will join us in saying thank you by supporting their locations.
Be sure to stop in at the East Side Mart in Jackson, WI to support #FuelingForChildhoodCancer! Check back on the event page here to see more participating locations as they become available.