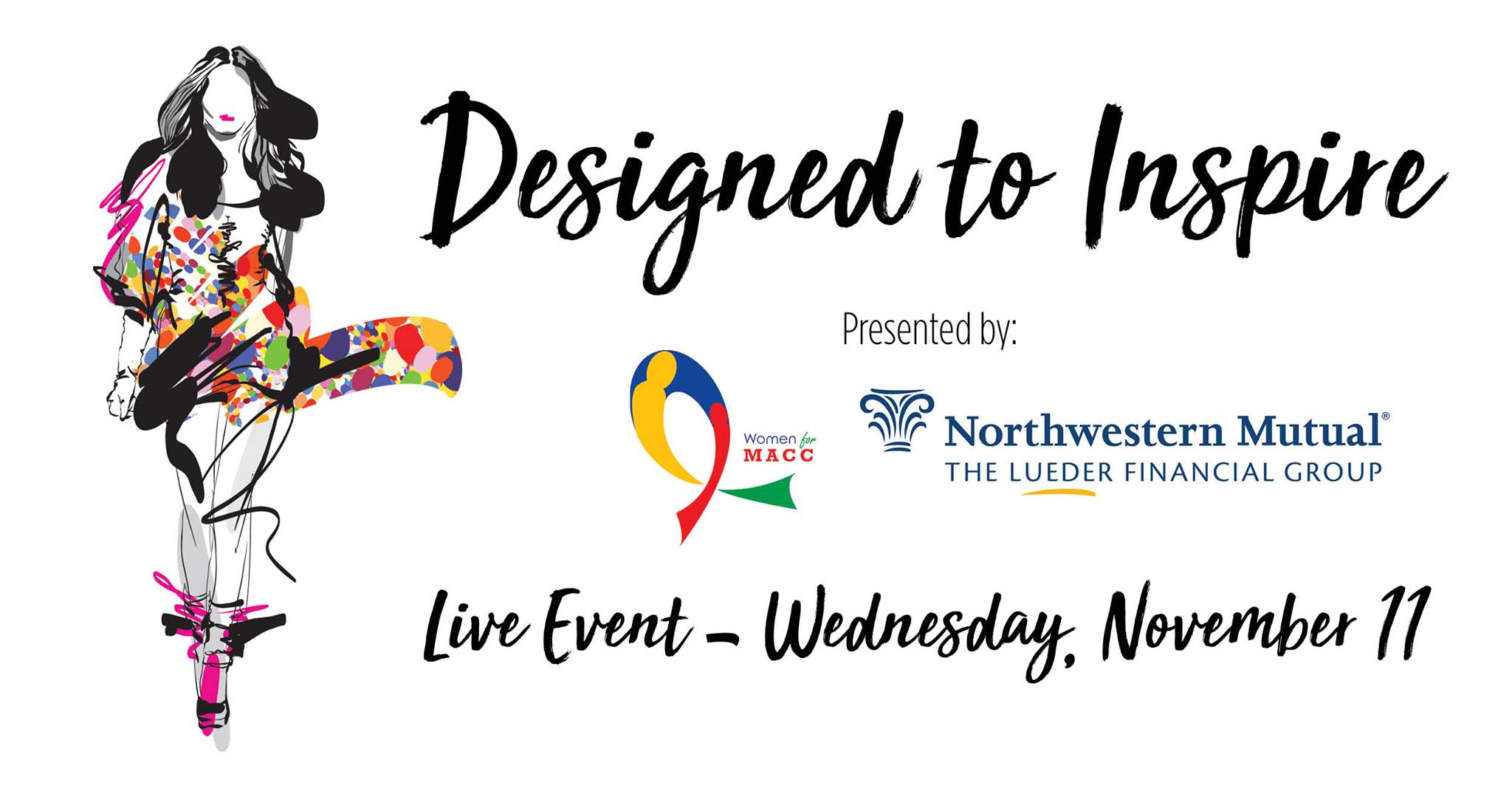 An Event Truly Designed to Inspire
Over the past 38 years, Women for MACC has been bringing hope to families through research & awareness to end childhood cancer and related blood disorders. At the beginning of this year, we were looking forward to celebrating the 38th Annual Couture for a Cure fashion show luncheon. We would never have imagined that 2020 would bring a global pandemic that would keep us from gathering in person this year. As the event has evolved, Couture for a Cure has taken on many forms. This year, as a result of the ongoing pandemic, Women for MACC decided to expand our reach and bring a virtual event fit for the times! Women for MACC proudly presented the first ever virtual "Designed to Inspire" on November 11th. Although much of the world has been put on pause, the fight against childhood cancer and related blood disorders hasn't stopped.
"It has been a challenging year for non-profits, and Women for MACC is no exception. Many of our donors, especially to our silent auction, have been struggling. Making the decision to go virtual was a tough, but necessary one. While we were disappointed to not be able to be together for our signature event, Couture for a Cure, we were lucky to have a great team who worked hard to pull together a new event. Designed to Inspire gave us an opportunity to reach our supporters in a different way. We were able to tell more children's stories, which was really wonderful," Stacey Meyer, President of Women for MACC.
During the event we highlighted inspiring stories from families that have been drastically impacted by cancer and learned more about how the dollars we raise make an impact in the lives of these children – not just here, but globally.
A Proud Partner
Our presenting sponsor, the Lueder Financial Group of Northwestern Mutual, shared why they continue to partner with us in our fight. Every 2 minutes a child is diagnosed with cancer. Matt Lueder, Managing Partner, stated "We MUST find a cure for this devastating disease, which is why we passionately support Women for MACC. They tirelessly work to end childhood cancer and blood related disorders, provide hope to families and their children, strength to carry on, courage to keep fighting, and resilience to never give up."
Inspiring Stories to Make a Difference
The Pogodzinski Family walked us through Dylan's diagnosis with Burkitt's lymphoma at the age of 4 and his "journey on kicking cancer's butt." They emphasized the importance of awareness and research. "Because you are not sure what the clinical trials going to be, but you want to give your child any fighting chance they can have to beat this, and so what pediatric cancer and raising funds for pediatric cancer is, its allowing clinical trials to be offered to families when they hear the worst news ever. It is giving them that final fighting chance that maybe this could be their last resort and so by raising money, raising awareness, by allowing our physicians to create clinical trials, its giving our children that beat cancer a better chance of living a great quality of life."
Dr. Paul Sondel, Director of Research at UW Carbone Cancer Center & American Family Children's Hospital, was interviewed by Brian Gotter, Meteorologist of TMJ4 & Vice Chairman of the MACC Fund board of directors, to bring awareness on how critical research is. He emphasized that we still have a LOT more work to do and his VISION is to find a kinder and more specific way to cure children, while eliminating life-long side effects due to chemotherapy and radiation. Through the cutting-edge research funded by the MACC Fund –researchers such as Dr. Sondel can continue to find new and better treatments.
The Clyde Family walked us through Mackenzie's journey with relapsed Medulloblastoma and how research is the only way to change the standard…a better standard for our kids. Despite being in Hospice, Mackenzie's selfless personality continues to find ways to bring smiles and warmth to the hearts of other children undergoing cancer treatments. Courtney states that "what every parent wants for their kids is their BEST life ever, no matter the length of time they will be here."
A Lasting Impact
With the generous support of our community, Women for MACC has donated over $5.2 million dollars to the MACC Fund, whose childhood cancer and related blood disorder research has driven the five year survival rate for all childhood cancers to 80% since its inaugural year in 1976.
"I believe that children deserve HOPE and my GOAL is to INSPIRE others to make a difference in the lives of these children. It truly starts with BELIEVING things can change. Your support is needed now more than ever," states Alicia Buttchen Anderson, Chair of Designed to Inspire and Immediate Past President, of Women for MACC.