Cheri's Legacy: A Family Tradition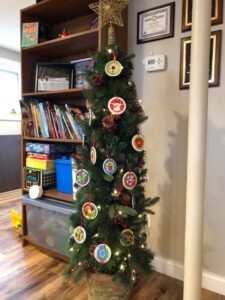 This story was shared by Buster Amore, father of the late Cheri Amore who designed the 1998 TMJ4 MACC*Star.
Cheri's Story
Our daughter Cheri was honored to create the 1998 MACC Star. Our journey began in 1988 when Cheri was diagnosed at age 3 with ALL and we were referred by our pediatrician to Children's Hospital of Wisconsin.  Although her diagnosis clearly changed our world forever, it was the beginning of an incredible journey that has blessed us in so many ways with wonderful friendships, bittersweet memories, and the understanding of the passion and hope that fuels the search for a cure.
The First Star
We received our first MACC star from my mom for Christmas in 1988.  My mom had started a tradition in our family to add to our collection of Christmas ornaments every year with a "memorable" ornament.  Well needless to say our first MACC Star was memorable in so many ways. Little did we know at the time it was the 1st MACC Star!  It was our first year of coping with the diagnosis of childhood cancer, and our first opportunity to learn about the MACC Fund and the amazing work they support to provide hope to families like ours.  Our tree is filled with beautiful ornaments each with special meaning, we had no idea on that Christmas how the MACC Star tradition would continue in our family, and how we would understand the special stories with each star. From that year onward, we have made it a tradition to add a MACC Star to our tree.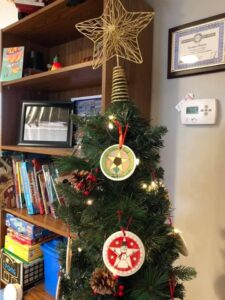 In 1998 Cheri was selected to create the star. It was such a wonderful experience. And being from a small town, her moment of artistic fame provided our family with a wonderful platform to promote the MACC Fund. We were able to acquire an order of MACC stars to sell locally and sold out of I believe 300 stars in our small town in less than 2 weeks. Now our family and close friends were all in for the MACC star.
In 2002 our lovely daughter Cheri suffered a complication following her 4th bone marrow transplant. The day following her 17th birthday, she left this world to watch over us as our Angel. However, the MACC star tradition carries on as a way to honor Cheri and so many others.
Cheri's Legacy
As Cheri and her older brother Andy entered their middle school years, I began to collect MACC stars for their future trees. The annual MACC star has also become a tradition for many of our family members. In fact I usually reserve 40-50 stars each year to deliver to family and friends so the tradition can live on, and we can continue to support the amazing work of the MACC Fund.
Today our 31 MACC stars have grown from a place on our family Christmas tree, to a time when they were honored on a MACC Star wreath, and now to a special place of honor on the small MACC Star tree in our family room. Each year we place the star of the year at the top of the tree with Cheri's star nearby in a prominent place. I organize them all in chronological order. Many of our stars have been autographed by the special artist.
Our son Andy and his wife, Colleen, do the same.  Apart from the 1988 star they too have a full collection.  Colleen's parents have collected many of the stars as well through gifts from us and even an internet search for missing stars to create a special MACC Star display as part of their Christmas tradition. This is a family legacy that we intend to pass on to our 2 beautiful grandsons, for when they have their own homes someday. We have a way to go as they are only 5 years old and 2 years old, but Parker (5) understands how special these ornaments are as he admires them each year, of course starting with his Aunt Cheri's star.